pod2g Isn't Working on iOS 6.1.3 Jailbreak And Keeps Exploits for iOS 7
Find latest news on how to untethered jailbreak iOS 6.1.3. Now it is not a secret that Apple closed the vulnerabilities that hackers use to gain access to the core of the mobile platform in iOS 6.1.3 firmware, released last month.
In other words, Evasi0n jailbreak only supports iOS 6.0 firmware for iOS 6.1.2. The current version of the OS, which generally has a small list of changes, access to the Cydia store is locked. Likely take several months before you will see a new public exploit.
On Suturday, representative of the jailbreak community, p0sixninja, said the same that he was going to wait for the iOS 7 release and only after introduce his tool. He wrote in twitter that will not create a jailbreak for iOS 6.1.3 and wait until at least iOS 7.0, "if not up to iOS 7.1".
Today on Twitter pod2g, member of Evaders team, who developed the untether Evasi0n, posted a message that confirmed fears of jailbreakers: hackers have decided not to pay attention to firmware iOS 6.1.3, because it's too expensive.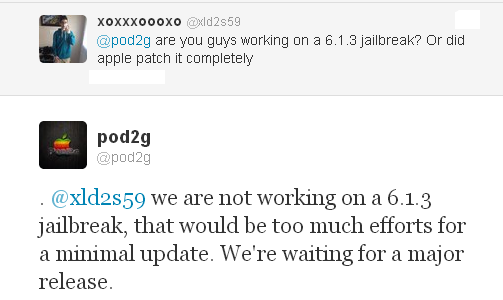 On Friday, P0sixninja tweeted that he has all necessary tools to jailbreak iOS 6.1.3 untethered with a new exploit.
The situation is critical by the fact that, after upgrading to iOS 6.1.3 you will not be able to go back to iOS 6.1.2 and jailbreak it again.
iPhone and iPad, which will go on the actual firmware will lose access to the Cydia store until the release of iOS 7. All exploits will be shown a public and many will enjoy the possibility to jailbreak iOS 7.
But iOS 7 release event is not expected until the fall, and the development of cracking may take months, with a good set of circumstances, to six months, as is the case with the iOS 6 firmware.