Evasi0n7 1.0.7 Fixes Bugs with iOS 7 Jailbreak
The Evad3rs team of hackers has updated their popular untethered iOS 7 jailbreak Evasi0n7 to version 1.0.7. This upgrade is good for users who have installed the newest Apple mobile firmware iOS 7.0.6. The tool should solve the problems with Cydia package list.
Evasi0n7 1.0.7 fixes the bug that causes Cydia packages list not being updated automatically. The updated jailbreak solution comes with no other updates, options, features, and tools. It is the same as previous version 1.0.6 but it solves the issue experienced by a lot of people. 
You should install this v.1.0.7 only if you really have problems with Cydia packages. If you don't have this problem you can avoid updating to version 1.0.7 as this will make you re-jailbreak your smartphone all over again.

Download Evasi0n7 1.0.7 Links
iOS 7.0.6 can be jailbroken with the new Evasi0n7 1.0.7 update that fixes problems discovered in previous release.
Windows and Mac users can download the updated jailbreak directly from these links:
The new Evasi0n7 1.0.7 update supports iOS 7 firmware [all current versions up to 7.0.6].
The tool jailbreak iPod touch 5G, iPhone 4 / 4S / 5S / 5c / 5, iPad mini, iPad 2 / 3/ 4 and iPad Air.
How to Jailbreak iOS 7.0.6 with Evasi0n7 v.1.0.7
Step 1. You should go to Settings – General – About – Version to make sure you are really using Apple firmware 7.0.6 on your iDevice.
Step 2. Make sure your gadget is supported by this jailbreak.
Step 3. Install or update your iTunes to the most recent version.
Step 4. Backup your iPhone, iPad or iPod touch via iTunes.
Step 5. Download Evasi0n7 update for Mac or Windows depending on the computer you have. You can save it on your desktop.
Step 6. Extract and launch Evasi0n7. If you are using Windows PC you have to open this program as Administrator.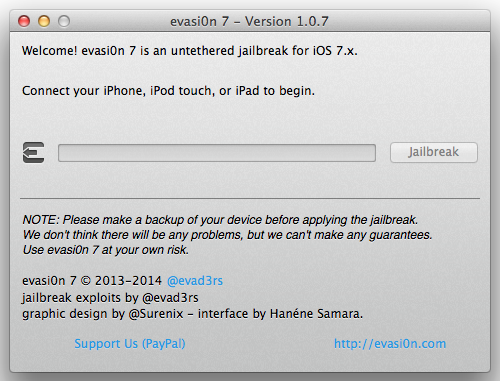 Step 7. Plug the iDevice to your computer but before you do this you should turn off passcode feature which can be done through Settings – General – Passcode Lock on [turn it off].
Step 8. Let Evasi0n find your gadget and press Jailbreak to start untethered iOS 7.0.6 jailbreak.
Step 9. Do nothing but wait till the processes complete. Your iPod touch, iPad or iPhone will reboot and then you will see the message to unlock the gadget. Do so but don't close Evasi0n7 application.
Step 10. Once you unlock you will see Evasi0n7 icon on your iDevice home screen. Click on it to open it and wait till jailbreak completes.
Step 11. You should now see Cydia icon on your iPhone, iPad or iPod touch.
This means you have successfully jailbroken the device with Evasi0n7 version 1.0.7.