iMessage Outage June 2015: Not Sending / Receiving Messages on iPhone
Is iMessage not working on iPhone? A lot of users experience iMessage outage June 2015 problem this week and you might also be getting the same issue when trying to send someone a message. You might also have problems with receiving iMessages from your friends.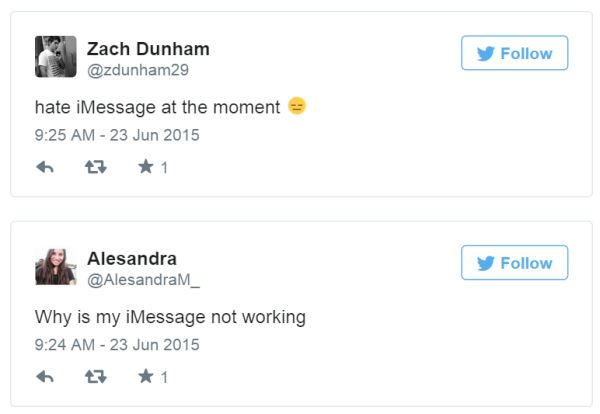 Some Apple customers are actually able to get and send messages but they assure that the whole process has become abnormally long. Or it takes a couple of attempts to send the text, or it simply fails.
Do you have iMessage not sending issue or not? Apple system statuses are 'green' and the company says nothing about iMessage not delivered issue. Still users tweet that they do have complaints about the app that doesn't work properly.
This year Apple received many complaints from its consumers regarding cloud service work. The company experienced outage with different services that sometimes were shown on its site and sometimes were not.
You can always fix iPhone texting problem with iMessages and this solution is perfect for the iMessage outage in any time. It is better to be prepared for any possible issues with Apple services beforehand in order to fix them on your own while the company is fixing issues on its servers.
Some outages can last for hours in a row. And such situations happened earlier in 2015 so all 'fruit' device owners have to learn how they can send text messages and not iMessages in order to use this knowledge at the times of new problems. Sending messages as SMS is always a great way to reach your recipient, inform him or her about your plans and not rely on Apple's services that might not be working just when you need them the most.
The company is currently working on iOS 8.4 and iOS 9 development. It is also believed to introduce new lines of iPhone and iPad sometime in the fall and new Apple Watch by the end of 2015 or in spring 2016.