How to Jailbreak and Unlock iPhone 4 iOS 6.0.1 Using Sn0wbreeze 2.9.7
As I promised here I'll show you how to use Sn0wbreeze 2.9.7 to jailbreak and unlock iOS 6.0.1 on iPhone 4 and 3GS. It is possible to unlock your device if you use Gevey SIM or Ultrasn0w and want to preserve baseband and update to iOS 6.0.1 by creating custom firmware for iPhone 4 or 3GS.
This morning 19-year-old hacker iH8Sn0w released Sn0wBreeze 2.9.7 for operating Windows which you can use to built custom firmware and jailbreak iOS 6.0.1. However I must disappoint those who are waiting for untethered jailbreak because this is tethered jailbreak. For more news about iOS 6 untethered jailbreak use the link and find out that such hackers as i0n1c and p0sixninja trying to release untethered jailbreak.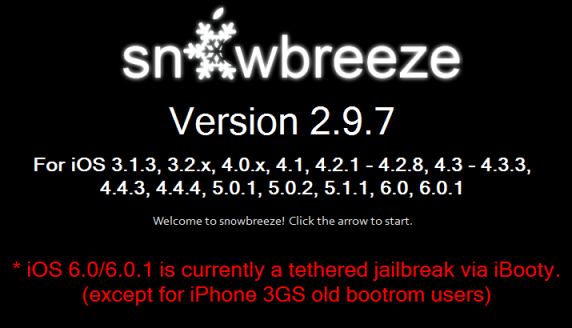 Note: This guide is not for those who have already updated their devices to iOS 6.0.1 and didn't preserve baseband and not for iPhone 5, 4S users. In this case, if you are tired looking and waiting for free unlocking solutions or you are tired from playing with Gevey and Ultrasn0w you can always use IMEI factory iOS 6.0.1 unlock and enjoy any new iOS update and SIM card everywhere you want.
Here are instructions for creating a custom firmware to jailbreak iOS 6.0.1 for iPhone 4, iPhone 3GS and iPod touch 4G with Sn0wBreeze 2.9.7. If you prefer Redsn0w, you can jailbreak iOS 6.0.1 tethered after baseband preservation.
And the last. Let's check if your iPhone baseband is compatible with Ultrasn0w and Gevey Sim because if not you will only update to iOS 6.0.1 and jailbreak it.
Supported iPhone Baseband for Gevey and Ultrasn0w Unlock
Ultrasn0w Fixer
iPhone 4 – 01.59.00
iPhone 3GS – 05.11.07, 05.12.01, 05.13.04, 06.15.00
Gevey Sim
iPhone 4 – 02.10.4, 03.10.01 and 04.10.01
How to Build Custom iOS 6.0.1 Firmware and Jailbreak It Using Sn0wbreeze
Step 1. As usual first you need to download needed tools for it:
Step 2. Run Sn0wbreeze and click the blue arrow to continue. In the new window, click Browse for an IPSW and specify the file iOS 6.0.1 you downloaded in step 1.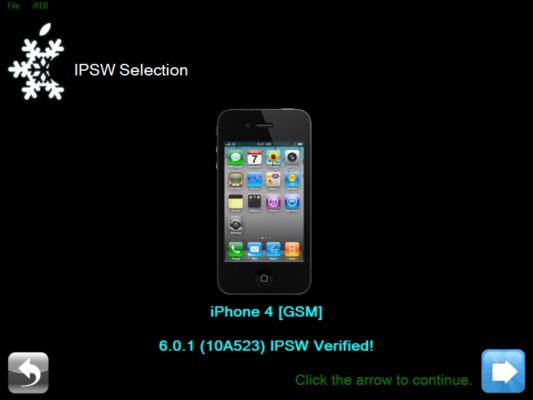 Step 3. Sn0wbreeze will determine your iPhone.
Step 4. In the following window you will see:
iFaith Mode. This mode creates custom iOS and stitches it with your backed up SHSH.
Simple Mode will preserves your baseband, jailbreak and hacktivate.
Expert Mode will preserves your baseband, jailbreak and hacktivate but with additional options for developers.
Baseband Preservation Mode. This option creates custom iOS 6.0.1 firmware and preserve baseband. But doesn't jailbreak device.
Select your option, in our case Simple Mode is most recommended. By pressing the blue button, the program will start to create a custom file and jailbreak iOS 6.0.1. It will take some time.
Step 5. If you will see the word Done, Sn0wbreeze will confirm the successful creation of custom iOS 6.0.1 IPSW.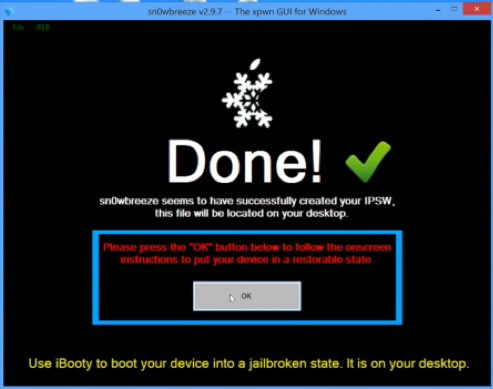 Step 6. To complete jailbreak you need to enter DFU mode using this guide. If done correctly, the program will report that your iPhone is in PWNED DFU.
Step 7. Now you need to install custom firmware to jailbreak iOS 6.0.1 on iPhone, iPad or iPod touch. To do this, download the latest version of iTunes. Run the application and click on the device icon in the sidebar of iTunes. Holding SHIFT click the Restore button (not the "Update" or "Check for Update").
iTunes will ask you for the location of the custom firmware iOS 6.0.1, created using Sn0wbreeze 2.9.7. Select it and click "Open." It has be something like sn0wbreeze_iPhone_xxxxxxx.
Step 8. iTunes does the rest. The procedure consists of several stages. In this step, be patient and do not interrupt the installation.
Note: If you will get 3194 error in iTunes you can fix it here and continue restore and jailbreak
Step 9. Now you're holding jailbroken iPhone 4/3GS, or iPod touch on iOS 6.0.1 with Cydia on the home screen. The last thing you will need to do is booting into tethered mode after jailbreak and before iOS 6.0.1 unlock.
For this you can use iBooty which comes with Sn0wbreeze 2.9.7:
Run iBooty for Windows and select your gadget from the list.
Click Start and follow on-screen instructions to put the device in a DFU mode.
After entering the mode DFU, iBooty will set up your jailbroken iPhone, iPod touch or iPad on iOS 6.0.1 to boot in tethered mode.
Unlock iOS 6.0.1 iPhone 4, 3GS [Ultrasn0w Fixer / Gevey Sim]
To unlock iOS 6.0.1 iPhone with Ultrasn0w fixer you need to check if your iPhone baseband is in the list above, if it is there use this guide to unlock iOS 6.0.1 using Ultrasn0w fixer because iPhone Dev Team hasn't yet release its official update. Remember to use iBooty to boot your iPhone.
If you want unlock iPhone 4 using Gevey SIM you need to take your SIM tray out and reboot iPhone 4 using iBooty. After rebooting turn off 3G and cell data. Then just insert SIM tray with Gevey Sim and your SIM. When you will see accept Screen you need to tap Accept. When you will see No Service wait just around 15-20 seconds and then dial 112. Hang up after 1-2 seconds.
To complete the process you need to turn on Airplane Mode and wait for No SIM card installed. Then turn off Airplane Mode and you will see SIM failure and tap OK. Now you iPhone 4 have to connect to the network.
That's it. After this long-long process you have just updated, jailbroken and unlocked iOS 6.0.1 on iPhone 4 and 3GS with preserved baseband and custom 6.0.1 firmware using Sn0wbreeze 2.9.7
My advice is to give up this long process and use IMEI unlock to free your iphone from any restrictions from Apple, carrier, any software or hardware hacks.
There is many services that offers permanent factory unlock but you can use the service that you can be sure is working. If your iPhone is locked to AT&T than unlock it here. And if your iPhone is locked to other carrier worldwide go here. However, if you don't know the carrier to which your iPhone is locked to you can always check for less than 1 dollar!