How To Jailbreak iOS 6.0.1 on iPhone Using redsn0w 0.9.15b3
After newly released iOS 6.0.1 many iPhone users wished to jailbreak it. Despite the fact that iPad jailbreak is illegal iPad users asking question when we write tutorial guide on how to jailbreak iOS 6.0.1. Now this time has become so you can follow my guide below.
New Redsn0w 0.9.15b3 doesn't only jailbreak 6.0.1 firmware version in tethered mode but fixes 2601 error during restoring in iTunes and 14 error during stitching files. You will be able to download it below.
If talking about iOS 6.0.1 jailbreak I have to disappoint some iUsers because there are still devices which are not supported. Like in previous iOS 6 jailbreak Redsn0w 0.9.15b3 support only A4 devices:

Redsn0w 0.9.15b3 Supported Devices
iPhone 4
iphone 3GS
iPod Touch 4G
iPad
So if you are owner of A5, A5X, A6 and A6X devices you better stay away from jailbreaking process.
Redsn0w 0.9.15b3 Doesn't Support
iPhone 5
iPhone 4S
iPad 2
iPad 3
iPad 4
iPad Mini
Now when you see all supported and not supported device we can try to jailbreak iPhone running iOS 6.0.1 and enjoy Cydia store and jailbreak tweaks.
How to Jailbreak iPhone Running iOS 6.0.1 | Tethered
Note: Remember that iPad jailbreak is illegal so you can do it on your own risk.
Step 1. As always first you have to download all needed tools for successful jailbreak:
Step 2. Update your device to iOS 6.0.1 but if you are using Ultrasn0w unlock or some other unlock solution you better stay away from the update because you will lose it. Once your device is running 6.0.1 miss this step.
Note: If you have already updated your device to the new Apple firmware you check all iOS 6.0.1 unlocking methods to free your iPhone.
Step 3. Unzip Redsn0w and launch it.
Note: If you're Windows users run it as Administrator. In case you use OS X Mountain Lion click the file holding Ctrl and choose Open from the menu.
Step 4. Now go to Extras => Select IPSW and point to iOS 6 firmware you downloaded in step 1.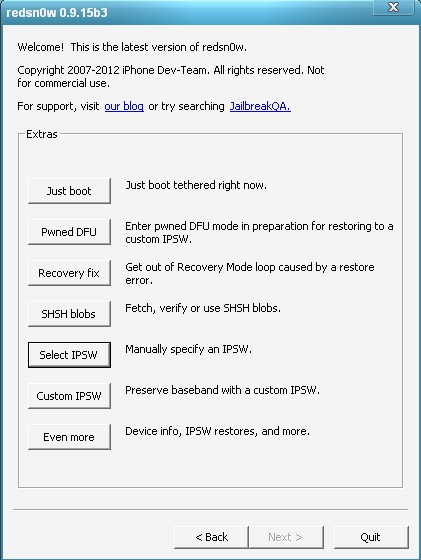 Step 5. Then go back to the main Redsn0w 0.9.15b3 screen and click Jailbreak. Now select Install Cydia and prepare to enter DFU mode. You can follow on-screen instructions or this guide to enter DFU.
Step 6. If you successfully enter DFU mode Redsn0w 0.9.15b3 will start to jailbreak your iPhone 6.0.1. After the end of the process click "Autoboot this device when it connects in DFU mode" for tethered mode.
Step 7. After rebooting your iPhone will run jailbroken iOS 6.0.1 and you can see Cydia on your Home Screen.
But this is not the end. You have to remember that this jailbreak is tethered which means that you need connect your device to the computer and use Redsn0w option Just Boot in Extras every time when you restart your iPhone.
That's it. Now you can enjoy all jailbreak tweaks and apps from Cydia store on jailbroken iPhone 6.0.1.