Pod2G and MuscleNerd Founded Evad3rs Team to Jailbreak iOS 6.1 Untethered
Have you ever heard about evad3rs team or about evad3rs jailbreak? No. Remember this name because hackers fro this group will be responsible on iOS 6.1 untethered jailbreak.
On the eve of the iOS 6.1 jailbreak release for all Apple devices of last generation, including the iPhone 5, iPad 4 and iPad mini, hackers made an important statement. Developers from various hacker groups (iPhone Dev team and Chronic Dev team) gathered together in the same team, which was named evad3rs. It is clear that they did it for the release of untethered jailbreak.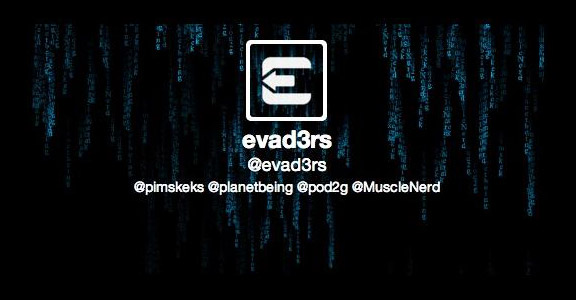 Information about this appeared in pod2g's Twitter account. In his microblog known programmer wrote that he and three other developers – MuscleNerd, planetbeing and pimskeks – joined the grouping called Evad3rs. According to him, the hackers are not going to collect donations, so it is advised not to buy on such ads on the Internet.
Recently it has been reported that hackers are ready to release iOS 6 untethered jailbreak and now they are waiting for iOS 6.1 update. After update they evad3rs jailbreak will be released to the public.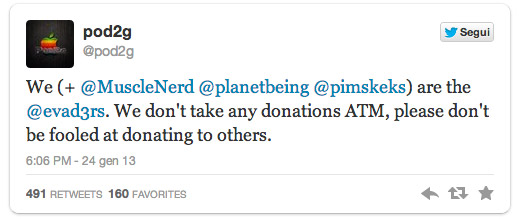 Hackers don't launch it yet because if they will release iOS 6 / 6.0.1 untethered jailbreak before 6.1 release the vulnerability in the firmware will be open for Apple, which will close them in the first update.
In the coming days is expected release of iOS 6.1 GM, followed by the final version of the debut of the new OS and the long-awaited release of untethered iOS 6.1 jailbreak from Evad3rs team.
I can not explain this revival of hackers but this news are good. Even despite the fact that iPhone unlock is illegal from February 26. I hope that hackers from evandrs will find the way to unlock iPhone legally and present it to the public, as usual, for free.
But if you plan to unlock iPhone – use one of the legal service given here and free iPhone from carriers restrictions while you can do it.
Also you can use comment section below to express your thought about evad3rs jailbreak and about illegal iPhone unlock.