How to Turn Off Spotlight Search in iOS 9 iPhone 6 [Jailbreak Tweak]
It is possible to disable Spotlight iOS 9 feature if you have jailbroken your handset. There is new iOS 9 Pangu jailbreak program that supports versions up to 9.0.2 and a Cydia tweak that make it possible to turn of the option if you don't like or don't need it.
Firstly, lets speak about viewing your Spotlight search on iOS 9 platform. If you are on your first Home screen – swipe it to the right and Spotlight will be available. Or just swipe down and the search will appear. Secondly, follow the guide on how to turn off Spotlight in iOS 9 and you'll get rid of it.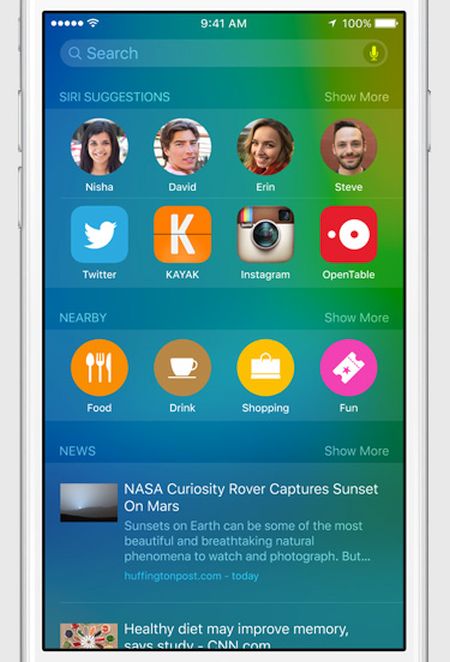 How to Turn Off Spotlight Search on iPhone 6 with iOS 9
Step 1. Once you jailbreak download the tweak called SpotlightBeGone [remember that some jailbreak tweaks could be dangerous]. It supports the latest firmware version. It's a free package which is available on the BigBoss repository.
Step 2. Launch Settings.
Step 3. You will find the new pane with toggles. One toggle makes it possible to turn off the swipe down gesture. The other one is responsible for the swipe to right gesture. If you toggle both options – you'll disable Spotlight feature for good.
Step 4. Remember to respring otherwise the changes will not happen.
Step 5. You can always enable one or both gestures to view the Spotlight if you need to search for something inside your system as quickly as possible [here is the list of all new iOS 9 features that Android devices lack]. This is an interesting addition to iOS 9 firmware and a lot of users find it handy when it comes to finding content within Apple applications or third-party programs.
Do you use Spotlight at all or would you like to ger rid of this iOS 9 feature using the jailbreak app?