How to Upgrade iPhone to iOS 7.0.2 Software Update
A week after the release of the final version of iOS 7, you can now download a technical update of iOS 7.0.2, aimed at fixing bugs. This update fixed bug that allowed you to bypass entering the passcode on the lock screen to access the iPhone and iPad.
Previously, Apple has released an iOS 7.0.1 update. The assembly is only available for iPhone 5s and iPhone 5c and is aimed at correcting errors associated with the work of iPhone 5S Touch ID.
A serious vulnerability iOS 7, through which it was possible to bypass the input lock screen PIN- code of the device was found in the next day after the release of firmware. Bug could allow an attacker to gain access to personal data of the owner of iPhone, iPod touch and iPad , bypassing the password: a few simple steps you view photos from photo library.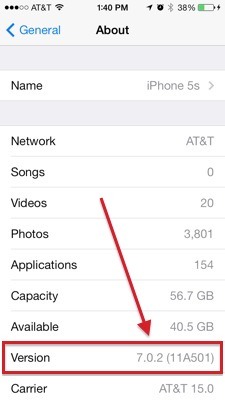 Another vulnerability in iOS 7.0, about which users complained, allowed to make a call from a locked iPhone running iOS 7. The trick is very simple: on the emergency call screen on iPhone locked by password you should enter the number to which you want to call , and then repeatedly press the call button. After a few seconds will fail and the iPhone will show Apple logo Apple. But iPhone will make the dial.
iOS 7.0.2 closes two vulnerabilities described above and adds the ability to enter the passcode on the Greek keyboard. You can install the update by going to the Settings – General – Software Update, or by downloading iOS 7.0.2 using direct links below:
Download iOS 7.0.2 for iPhone, iPod touch and iPad