What Is Better: Untethered Jailbreak for iOS 7 or iOS 8 Update?
iOS 8 beta has been widely tested by developers and even some users have risked and updated to the beta 1, 2, 3 or 4 via iTunes and without a registered UDID number. Still there is one big question. iOS 7 jailbreak vs. iOS 8 update. What is better? Is it worth staying on the previous firmware with tons of tweaks and hacks or enjoy the new version that can't be jailbroken at the moment?
There is a chance that hackers release jailbreak untethered for iOS 8 as soon as this operating system version becomes public which is expected in September 2014. This is a good situation and this way users can easily update and jailbreak their device waiting till all developers update their applications and games.
However, it might take hackers a couple of months or even half a year before they present jailbreak for this update firmware and thus you should decide whether you are going to wait or wish to stay on your previous OS version.
There are several untethered jailbreak tools for iOS 7. The latest news from Evad3rs team or Pangu team from China and p0sixspwn for earlier iOS 6.1.3-6.1.5 make it possible to jailbreak this firmware with ease. You have a big choice of programs to use so this is not a problem to perform untethered jailbreak right now.
This gives you a huge selection of jailbreak apps, tweaks, hacks to use on your iPhone, iPad or iPod touch to customize and modify it.
At the same time, iOS 8 firmware brings a lot of new features and options not available in the original iOS 6 and 7. Some of these features used to be tweaks and will now become official which is great. For example, Apple has introduced better notifications, fast SMS respond, support for third-party keyboards etc.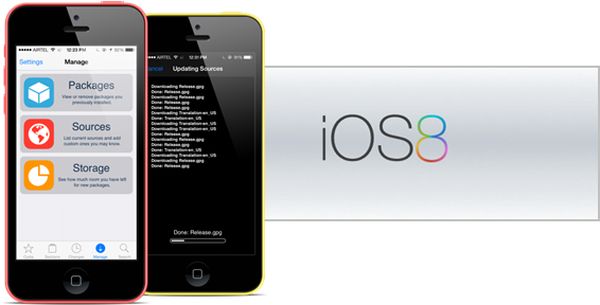 iOS 7 vs iOS 8
Are you eager to lose your jailbreak because of the upgrade to iOS 8? Have a native firmware with apps is surely better but updating to the newest operating system add innovative features which is also great.
If you decide to install iOS 8 you will benefit in the following ways:
Apple warranty isn't voided
A lot of new features and options
Support by Apple
Security with iOS 8 activation lock
Nice usability
The problem with iOS 8 is it supports only several iPhones: iPhone 5S, 5c, 5, and 4S, iPod touch 5G and iPads: mini, Air, and 2, 3 and 4 models. It can't be jailbroken yet.
If you prefer staying on iOS 7 you have these advantages:
A lot of great features
Tons of jailbreak tweaks once you jailbreak
Support for iPhone 4 which is not supported by iOS 8
A lot of games and programs not supported by Apple
It's up to you to decide which firmware suits your desires when you look at iOS 8 vs. iOS 7 jailbreak.