Easy-to-follow iOS 6.1.2 Untethered Jailbreak Guide
The launch of the new iOS was followed by evasi0n 1.4 update release which made iOS 6.1.2 untethered jailbreak possible. Now you can easily upgrade to the latest firmware version and follow this iOS 6.1.2 untethered jailbreak guide to free your iPhone, iPad or iPod touch from restrictions set by Apple.
Don't expect any new options with the firmware update as it was launch to fix WiFi problems in iOS 6 and not bring interesting features. Even though our instruction is meant for Mac users, people with other computing OS can also perform the steps below to jailbreak iPhone, iPad and iPod touch using evasi0n 1.4 exploit.

Things You Must Know About Evasi0n iOS 6.1.2 Jailbreak
Do not follow our iOS 6.1.2 untethered jailbreak guide until you finish these things. Firstly, you must prepare for the jailbreak and update iPhone in iTunes using iOS 6.1.2 ipsw and avoiding OTA function. Secondly, your must disable passcode lock option. Thirdly, you should backup your files and data.
The exploit works on iPhone 3GS, 4, 4S and 5, iPod touch 4G and 5G, iPad mini, iPad 2, 3 and 4.
How To Use Evasi0n To Jailbreak iOS 6.1.2 Untethered
First Step
You need to get the latest version of evasi0n 1.4 tool. Choose the exploit for your computer system [Windows, Mac or Linux]. Download and save the program to the desktop. Launch evasi0n.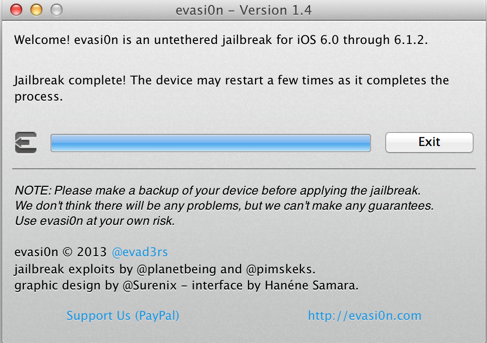 Second Step
Take your iPhone, iPad or iPod touch and connect it to the computer. The exploit created by Evad3rs will detect the smartphone or tablet.
Third Step
Press the "Jailbreak" button to start the whole process. The program will do everything on its own. You just have to be patient. Don't worry if you see your gadget rebooting as this is part of the jailbreaking process.
Fourth Step
When evasi0n app asks to unlock iPhone, iPad or iPod touch screen, do so [don't close evasi0n app at this moment] and press on the Evasi0n Jailbreak logo one time. You will see further iOS 6.1.2 untethered jailbreak instructions which you must follow.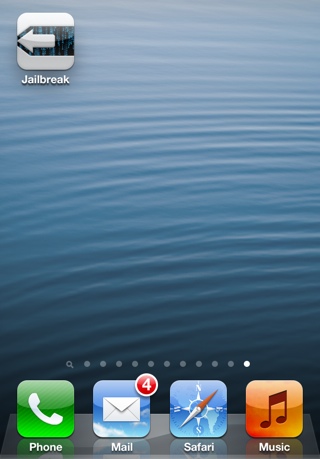 Fifth Step
When Exit button appears, click on it to exit evasi0n app. Don't hurry, let the jailbreak complete.
Sixth Step
When you are able to unlock the gadget of yours again, do so and launch Cydia application that will appear on the Home screen. Its first launch will be an initialization. Your iOS tablet or handset will respring afterwards. It's all right.
Seventh Step
Open Cydia once again. You are now able to start using your jailbroken iPhone, iPod touch or iPad with iOS 6.1.2 firmware installed on it. You can reboot it as many times as you like and you will not loose the jailbreak status because it is untethered.