What Features We Can Expect from iOS 7
Apple has release iOS 6 recently but many iUsers already hard trying to predict iOS 7 features, theme and release date. Some resource trying to predict new options of next iOS 7 and we are not exclusion. But you must realize that it is only our predictions because only Apple knows true functions of future operating system.
After meeting with iOS 6 features we can say what else we need so here below you can see the list of supposed changes in next Apple OS.

iOS 7 Features List
Improve Siri
What kind of a iOS 7 wishlist without the need of Siri. Apple improves its voice assistant with each new version of its iOS and seventh update will be certainly no exception. Siri has learned to run applications. The next step could be a deeper integration with the assistant. You can, for example, to teach Siri to run when opening a particular podcast music applications. Or call a specific contact via Skype.
Apps Customization by Default
Every day there are more and more applications that duplicate the functionality of standard iOS programs in the App Store. This includes multiple browsers, cameras, Twitter clients, and much more. In this case, Apple may not use it as the default program. The link from the email client can only be opened in Safari and the address found in the browser you can see only on new Apple maps. The feature that allows to install applications by default is in Android system from the beginning. Apple may also should pay attention to it in iOS 7?

Settings Depending on the Location
Apple introduced a new application reminding in iOS 5. One of his most interesting features was based on location. For example, iPhone could alert you about important notes when you came to the office or home. Development of this idea would be a "local" setting. Imagine, for example, that the phone would not prompt for the password when you unlock if you are at home. And includes a PIN-code out of a given location.
Local Notice
A further step towards the integration between Mac and iOS 7 can be local notice. Thanks to them, the smartphone would not notify the user of incoming emails or messages in social networks when it is running on your Mac. Implementation of this requires ingenuity, but the result is worth it. Probably all iUsers annoying to clean already read messages in the notifications center on the Mac. Also to improve the ability to access iCloud files from iPhone using Finder on Mac.

Widgets
Each year, the situation is repeated with widgets. Apple users expect this feature with iOS 7 release date. It seems that with the Notification Center it is only one step to the widgets. I think it is enough to allow third party developers to create their own add-ons which are located next to the weather and stocks. Or at least add to the Quick Access Toolbar settings. Now you can use Dashboard X Cydia tweak to place widgets on your Homescreen.
Improved Management of Desktops
Apple introduced folders in iOS 4. They were intended to combat the excessive number of desktops. The next step in this direction could be to introduce the ability to hide unwanted icons. Seeing a lot of the network drivers to get rid of kiosks, understands the need for such an innovation. In the same time they can add the ability to sort icons on the desktop, for example, the frequency of their use.
Improved Auto Correction
I'm that many of iPhone users from around the world complain on the bad auto correction. Especially non-English speakers. Improve this function of the system is very easy. Suffice it to simplify the process of learning. iPhone remembers word, ie doesn't try to correct it, only after repeated writing. But it is much easier to implement it through a pop-up menu.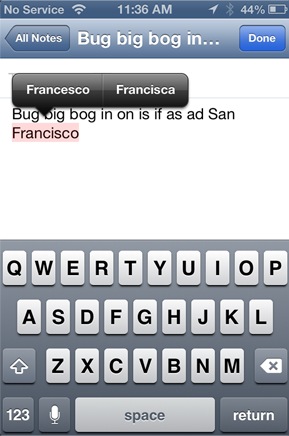 I hope you will enjoy these iOS 7 features list. Also you can leave your propositions using comment section below about options of iOS 7 beta before official release date in 2013 because we know that everything begins from beta version especially iOS 7 theme.
Original info was taken from here and complemented by me.