Fix iTunes Errors During Restore on Windows Using iReb r6 for iOS 6 / 6.0.1 | Download
Here you can download iReb r6 for iOS 6.0.1 and find out how to use it on Windows. Following the public release of Sn0wbreeze 2.9.7 that allows to jailbreak iOS 6 / iOS 6.0.1 and create custom firmware to preserve baseband for unlock, iOS-hacker iH8sn0w presented next update of another useful tool of its own design, called iReb. This software is useful when restoring to a custom firmware in iTunes and help avoid errors 1600, 1601, 1602, etc.
The main difference with the previous version iReb r5 is additional support for iOS 6 and iOS 6.0.1 devices with an A4 processor: iPod Touch 4G, iPhone 4 and iPhone 3GS. Unfortunately, iReb r6 is useless for such devices as iPhone 4S, iPhone 5, iPod Touch 5G, iPad mini, iPad 2, iPad 3 (The New iPad) and iPad 4.
Update: Now you can fix iTunes error 1600 and others using iReb r7 for iOS 6.1.3 / 6.1.2 and lover devices.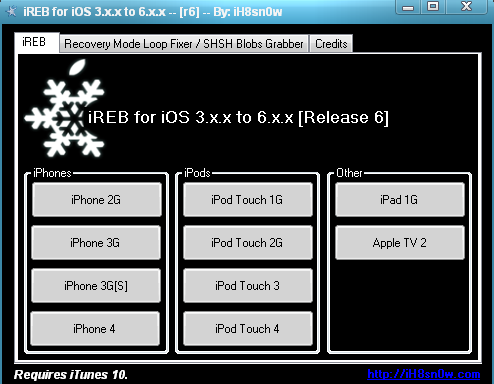 iReb is a very useful tool and is really needed during restore in iTunes when you try to preserve old baseband using Sn0wbreeze. R6 version allows you to do that on iOS 6 and iOS 6.0.1 fixing such iTues error as:
1600
1601
1602
1603
1604
1015
BTW, we already wrote you how to fix 1015 iTunes error during firmware upgrade. If you ever will have this error use iReb to fix it.
So, let's see how to use iReb r6 for iOS 6 but first you should download this tool for free using direct link below:
Download iReb r6 for iOS 6 / 6.0.1
How to Use iREB r6 on Windows
Step 1. Connect your iPhone (or other iOS-device) to the computer.
Step 2. Download and run iREB r6 on Windows.
Step 3. Select the model of your device and follow the instructions on the screen to put it to PWNED DFU.
Step 4. Once your device will be in PWNED DFU (you will see the black screen), the application will notify you with a message and offered to restore using iTunes on custom firmware.
Step 5. Launch the iTunes application and holding the Shift key on your keyboard, click on the Restore button. Select the required custom firmware.
Note: Here you can download iOS 6 and here you can download iOS 6.0.1
Step 6. iTunes will restore the custom firmware on the device and bypass the error 1600 and all others from this group.
Now you can enjoy your restored iOS on iPhone thanks to iReb r6 from iH8sn0w. Use comments form below if you have any questions regarding this topic.