iPhone 4 Downgrading Instruction [iOS 7 to iOS 6 with iFaith]
Some iPhone 4 owners are not satisfied with the iOS 7 released by Apple in fall 2013. If you are using Windows PC and your iOS 6.1.3 SHSH blobs [6.1.2 or earlier version of firmware] are saved you are able to downgrade iOS 7 to iOS 6 [iPhone 4 users only]. The instruction is useless if you don't have your blobs saved or own a different iPhone model.
Unfortunately for iPhone 4S / 5 users, it is impossible to downgrade to iOS 6 once you have upgraded to iOS 7.0.3. You are stuck while iPhone 4 owners are lucky as they still have a way back.
Step 1. Back up your iPhone 4. This is a very important step as it will give you a way to save your content in case anything goes wrong.
Step 2. Download iTunes 11.0.5 or previous versions. The newer updates will not work such as iTunes 11.1 and later. You should uninstall your program if it is too new and get 11.0.5 using www.oldapps.com site.
Step 3. Get iFaith here. It comes as zip file so unzip what you get.
Step 4. Plug in iPhone 4 to Windows PC.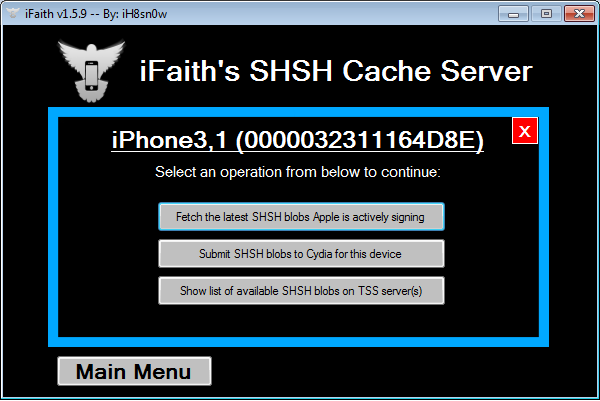 Step 5. iFaith can help you locate your SHSH blob if you don't remember where it is or haven't saved it. Launch the program and press Ok – Show Available SHSH Caches on Server. Press Yes. Select Show list of available SHSH blobs on TSS server. The application will eagerly show you the list of all available blobs. Choose the one you wish to use and close iFaith. Users who know where to look for the blobs without this program can proceed to the next step and skip this one.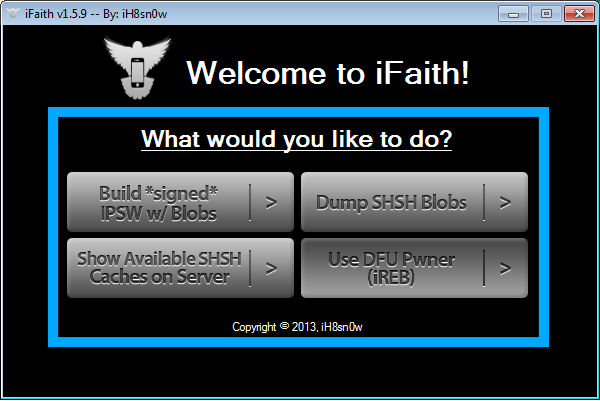 Step 6. Launch iFaith. You will see Build signed IPSW w/ blobs option. Choose it and Browse for SHSH blobs. Point to the blobs you wish to use.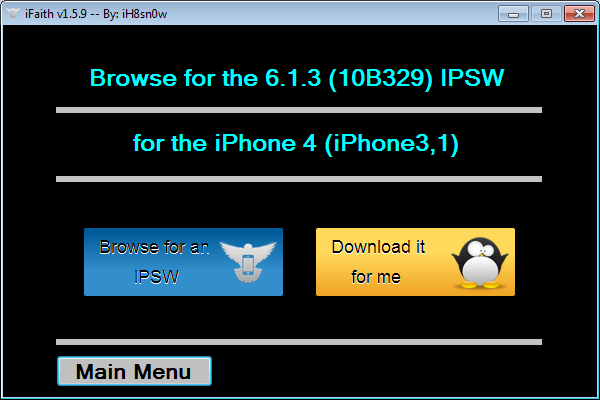 Step 7. To get the iOS file you can simply click Download it for me feature and start Building IPSW. Remember your IPSW file name after this procedure is complete. Press OK to proceed.
Step 8. You have to enter DFU mode on your smartphone by pressing on Sleep / Wake button and sliding to turn it off.
Step 9. Choose Start in iFaith. The app will show you detailed guide on how to enter DFU mode. You must press/hold the Sleep / Wake button along with Home button for about 10 seconds. They you need to let the Sleep / Wake button off but continue pressing on the Home button for about 30 seconds. Just go with the instructions till iFaith notifies that your handset is in DFU state. Press OK and close iFaith program.
Step 10. Open iTunes v.11.0.5 and let it find your iOS smartphone in Recovery mode. Once it has done so press OK.
Step 11. While pressing on SHIFT click Restore iPhone option [you can find it in Summary].
Step 12. Point to your IPSW file.
Step 13. When restore is complete you can set up the handset and enjoy using iOS 6 again.