Planetbeing About iOS 6.0.1 Untethered Jailbreak for iPhone 5
Many users of iPhone 5 are waiting for jailbreak after buying the gadget. It will give chance to exploit the full potential of their new device. Following MuscleNerd, pod2g, p0sixninja and i0n1c thoughts on the iOS 6.0.1 untethered jailbreak for iPhone 5 and other Apple devices other well-known hacker shared Planetbeing shared his thought about it. He published a picture of the latest generation Apple smartphone running IntelliScreenX tweak on the lock screen from Cydia.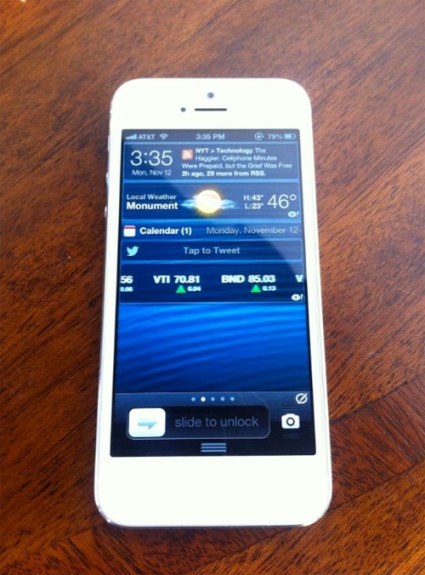 Before you start reading first you can check out thoughts about iPhone 5 and iOS 6 / 6.0.1 untethered jailbreak from:
As to Planetbeing, he commented the photo of jailbroken iPhone 5
"I can not tell you all the details, but we are still missing a few key components, so it can't be releasable right now. Believe me, we would love to release it asap.

Unfortunately, I can not promise anything. Jailbreak itself is stable, but we need more vulnerability. I can not tell what we are missing."
In other words, hackers successfully jailbroke iOS 6 on iPhone 5, but requires a number of improvements before they release untethered jailbreak to the public. Planetbeing confirmed that access to the "beta version" of iPhone 5 jailbreak only a few proven developers and hackers have.
After solving all the problems and finding more vulnerabilities Planetbeing promised to release a public iOS 6 untethered jailbreak for iPhone 5 and other iOS gadgets. It will probably be a new version of Redsn0w, GreenPois0n and Sn0wbreeze.
At this moment you can jailbreak iOS 6.0.1 tethered using Sn0wbreeze and Redsn0w. Also you have to know that now it is possible to perform jailbreak only on iPhone 4, 3GS and iPod touch 4G.
If you are user of iPhone 5, 4S, iPad 2, iPad 3, iPad 4, iPad mini and iPod Touch 5G you can't use any of existing tools to jailbreak it tethered or untethered. Remember about that.
Now all you can do is to stay tuned with us because we will announce untethered jailbreak for iOS 6 / 6.0.1 on iPhone 5 and other iOS devices.