Use RedSn0w 0.9.14b1 to Downgrade 06.15.00 on iPhone 3G/3GS [How to]
iPhone Dev Team has recently released new Redsn0w 0.9.14b1 specially to downgrade 06.15.00 baseband to 05.13.04 and unlock it using Ultrasn0w on iPhone 3G, 3GS.
The first news about the possibility to downgrade 06.15.00 baseband came from Musclenerd. He said that soon it will be possible to downgrade from iPad baseband to 05.13.04 and then unlock your iPhone 3G/3GS using Ultrasn0w. Also this process will fix GPS problem and you will have the ability to to use stock iOS firmware files (IPSW) again.
Redsn0w 0.9.14b1 is working even if you update iPhone baseband to 06.15.00 to downgrade it later. However I must tell your that new iPhone 3GS (models that was produced after 34 week of 2011) is not compatible with this iPad baseband so you better stay away from this because it can corrupt your baseband.
However this post is for those who are already using this iPad baseband and wanting to downgrade 06.15.00 on iPhone 3GS (3G).
How to Downgrade 06.15.00 Baseband to 05.13.04
Step 1. Download Redsn0w 0.9.14b1 from direct links for Mac and Win here.
Step 2. Now open downloaded Redsn0w to begin the process.
Note: If your are Windows user you need to unzip downloaded file and run redsn0w.exe as Administrator.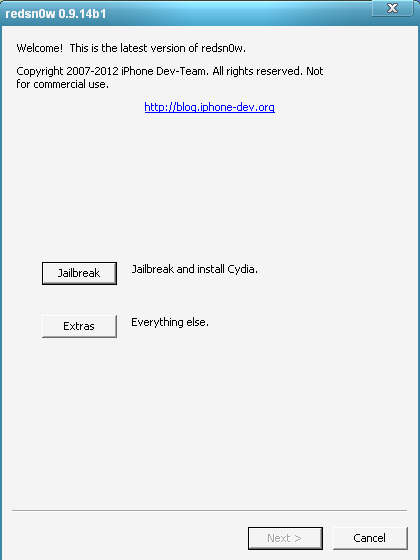 Step 3. In the main window of Redsn0w 0.9.14b1 go to Extra => Select IPSW where you should choose the iOS firmware that your iPhone is running now. If your iOS firmware is 5.1.1 use this link to download iOS 5.1.1 if needed.
Step 4. After Redsn0w tool successfully identify your IPSW you should to turn your iPhone off by using Slide to Power Off option.
Note: You have to turn your iPhone off in that way because it helps to avoid mount problems when the ramdisk method is running.
Step 5. Now go back to the main Window of Redsn0w and click Jailbreak to begin to downgrade 06.15.00 baseband to 05.13.04.
Step 6. After preparing your device for 06.15.00 downgrade you will see the Window with many options and now be attentive.
If you are using jailbroken iPhone 3G (3GS) then just only pick Downgrade from iPad baseband but if your device is not jailbroken you have to pick Install Cydia too.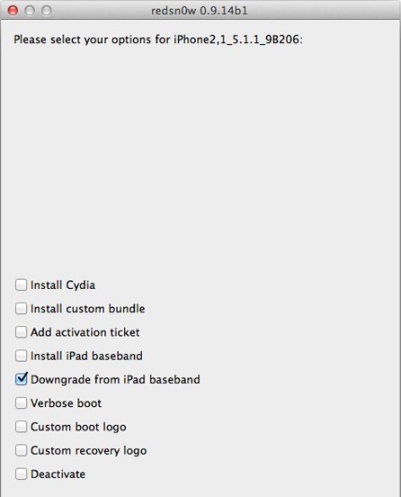 Step 7. After you choose needed option (s) just click Next and prepare to enter DFU mode.
There will be onscreen instructions after you click Next but if you need some help in entering DFU mode then follow these steps and put your iPhone into DFU.
Step 8. When you enter DFU mode Redsn0w will immediately begin downgrading process. You will see Pwnapple screen which means that you is getting to Flashing Baseband step which can last from 3 to 8 minutes so be passion while the process.
Warning: Don't interrupt downgrading process on your computer and don't disconnect your iPhone from the computer.
Step 9. In the end of the process your iPhone will automatically reboots and you can enjoy 05.13.04 baseband on your iPhone 3G, 3GS.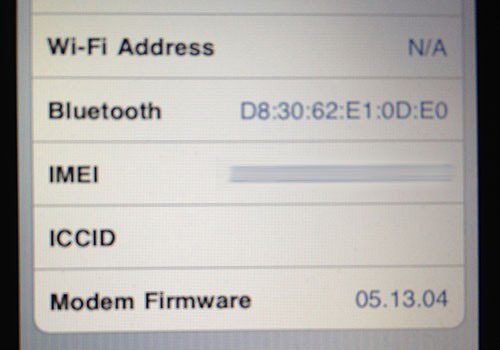 Note: If your iPhone is still on iPad baseband after the process, just use one of two methods to fix iPad baseband not working downgrade.
Update 1: If you have problems with No Signal issue then just reinstall Mobile Substrate and Ultrasn0w. To do this quickly just use this link to fix No Signal on iPhone 3GS (G).
Update 2: read latest iPad abseband downgrade news and be the first to complete downgrading process successfully.
That's it. You have just downgraded 06.15.00 baseband to 05.13.04 to unlock it with Ultrasn0w. I hope the downgrading process wasn't difficult for you and you had no problems with that. But if there are some just use comment section below and I'll try to help you if you can't downgrade 06.15.00 baseband on iPhone 3G, 3GS.