How to Downgrade iOS 6.0.1 to iOS 6 and iOS 5.1.1 Using Redsn0w
If you are looking to find the way to downgrade iOS 6.0.1 to iOS 6 or even to 5.1.1 you can perform it here using my tutorial guide. On Friday Apple company released iOS 6.0.1 for all iOS devices and everyone can enjoy it. However if you are waiting for something special from the latest firmware I have to disappoint you because, except bug fixes and some improvements, there is no reason to do that and better wait for iOS 6.1 release next year.
Why wait? Just read this post why not update to iOS 6.0.1. The main reason is untethered jailbreak for iOS 6.1 which, according to the rumors, may be released this year.
But if you don't care you can perform iOS 6.0.1 downgrade but only if you have save SHSH blobs because Apple stopped signing the 6th version. Also you have to know that this tutorial guide only for A4 devices:
iPhone 4
iPhone 3GS
iPod Touch 4G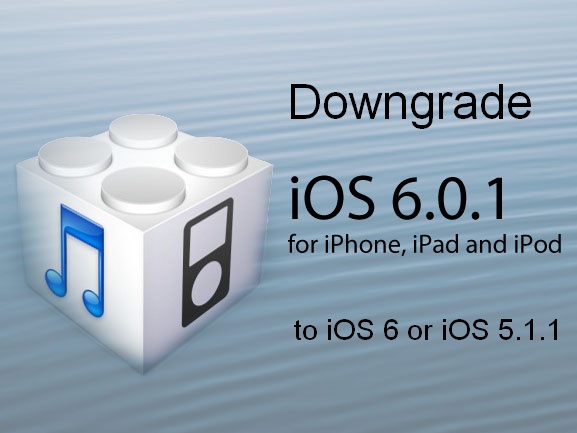 If everything is fine and it suits you we can start.
How to Downgrade iOS 6.0.1 iPhone to iOS 6 or 5.1.1
Note: This method does not downgrade iOS 6.0.1 baseband, it only perform iOS 6.0.1 firmware.
Step 1. Here below are the links that follow you to the pages where you need to get tools and iOS firmware:
Step 2. Back up your iPhone because you will lose all data while restoring.
Step 3. Connect iPhone to Mac or PC and open Redsn0w 0.9.15b3 – as Administrator on Windows and Cntrl+Open on Mountain Lion OS X.
Step 4. Use this guide to put your device into DFU.
Step 5. Now go to Extras -> SHSH Blobs -> Stitch in Redsn0w.
Step 6. You will see three buttons: IPSW, Local and Cydia so, click IPSW and choose iOS 6 or iOS 5.1.1 file you downloaded earlier.
Step 7. Now if you save SHSH blobs on computer click Local and select .plist file, if in Cydia, click Cydia.
Step 8. Next Redsn0w will create new file with IPSW filed certificate to successfully downgrade iPhone 6.0.1.
Step 9. Now click Back and go to Pwned DFU. Here you will need to enter Pwned DFU to successfully restore your device in iTunes. If you don't enter Pwned DFU you will get 1600 error during restore.
Step 10. Launch iTunes and wait till the program detect your iPhone in recovery mode. After hold Shift (Windows) Option (Mac) and click Restore.
Step 11. Now be very careful. Select stitched file which redsn0w created in step 8.
Step 12. If you will not interrupt the process after finish you will get OS 6 or iOS 5.1.1 after iPhone 6.0.1 downgrade. Enjoy!
Note: If you will receive an error (-1) in iTunes, go to Redsn0w -> Extras -> Recovery fix and enter DFU mode after which the tool will fix this error and you will enjoy lower iOS firmware version on your iPhone 4, iPhone 3GS or iPod Touch.
That's it. The last thing you can do is to use share buttons below and told all how easy to downgrade iOS 6.0.1 to iOS 6 and 5.1.1 on iPhone with Redsn0w.