What Apple add new to the iPhone 6 / iPhone 6 Plus Features?
iOS 8
The latest version of Apple's mobile operating system for iPhone, iPad and iPod touch is iOS 8. The software will come pre-installed on the iPhone 6 and iPhone 6 Plus. Also it is available as a free update for other compatible devices beginning September 17th. iOS 8 has several new features. They make the software platform much more open, including functionality like third-party keyboards and widgets. Look through the major features:
•    Interactive Notifications
•    All-New Messages app
•    Quick Type and Third-party Keyboard support
•    Handoff makes switching between iOS and Mac seamless
•    App Extensions
•    Notification Center Widgets
•    Family Sharing
•    New Accessibility features
•    Mail app gets time-saving features
•    Photos, Camera and Image Editing: What's New
•    Improved Safari
Apple Pay is a developed mobile payments system. It is powered by the NFC chip on the iPhone 6 and iPhone 6 Plus. To make a payment you simply hold your iPhone near the point-of-sale system. And verify you are the card holder by scanning your thumb with Touch ID.

The system stores your credit card info in an encrypted and secure way, with the help of Touch ID and the new A8 chip. Apple Pay are also useable with the iPhone 5, iPhone 5c and iPhone 5s when paired with an Apple Watch.
The service is deeply integrated with Passbook. Apple Pay doesn't store your credit card numbers. It does not transfer them to the merchant. And  this service doesn't register what you have bought or how much you have paid for purchase . It simply creates a complex number for your card. And uses a one-time code for when you make payments.
Apple Pay supports credit and debit cards from the three major payment networks: American Express, MasterCard and Visa. Works with 6 major banks including Bank of America, Capital One Bank, Chase, Citi and Wells Fargo As for stores, Apple says that more than 220,000 retailers will work with Apple Pay including Macy's, Bloomingdales, Wallgreens, Duane Reade, Subway, and McDonalds.
Design
The iPhone 6 is of course larger than its predecessor and has all-new design. The standard iPhone 6 has a 4.7-inch display, though the iPhone 6 Plus packs a 5.5-inch screen.
The new Smartphones are also much more thinner. With the iPhone 6 measuring in at 6.9 mm and the iPhone 6 Plus a hairline bulkier at 7.1 mm. To make such a design, which looks along the lines of a fifth-generation iPod touch, the iPhone 6 has a seamless transition between glass and metal. The newer iPads, iMacs and other Apple products have the same combination. The handset is made with a mix of anodized aluminum, stainless steel and glass.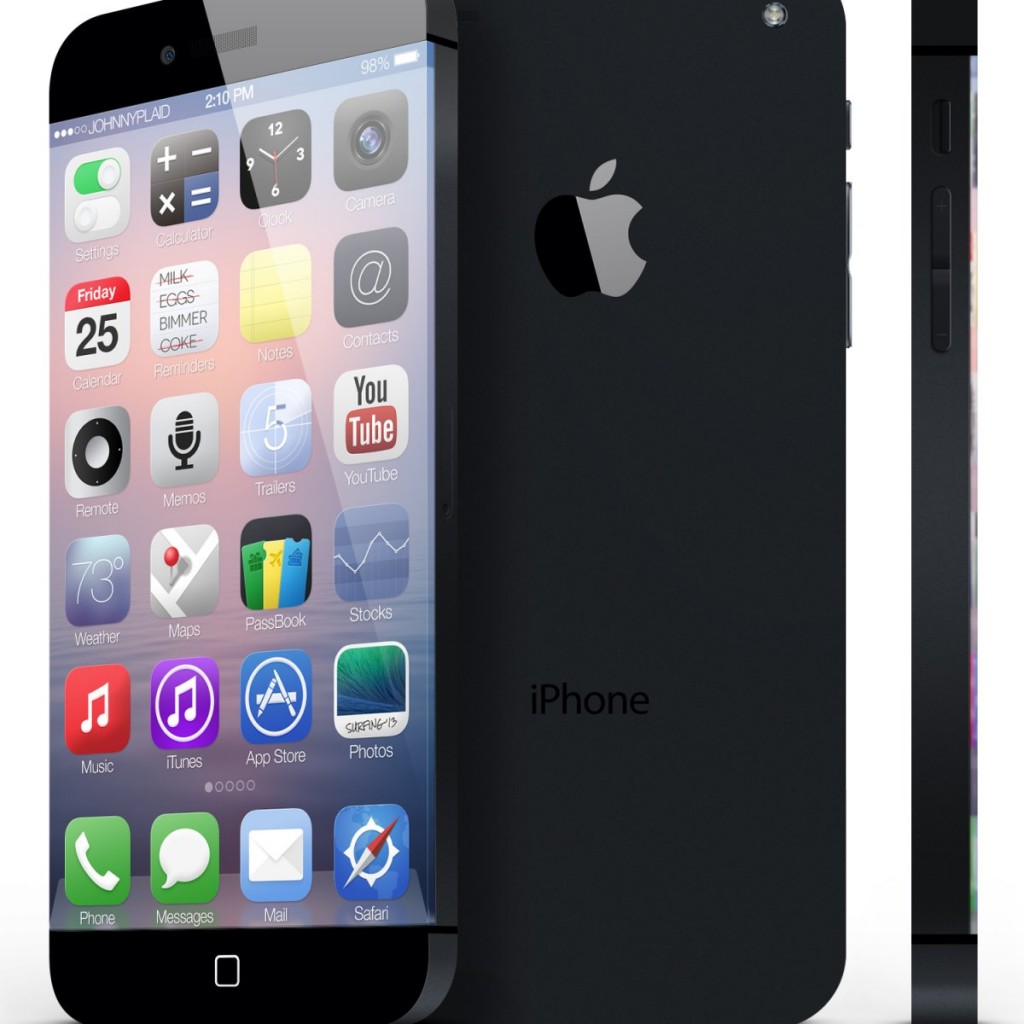 The Apple company wants to ensure one-handed use of the iPhone 6. So it has moved the Sleep / Wake button (or the power button) to the right side of the phone. There are pill-shaped volume buttons and a mute switch for silencing on the left the device. On the back is a slightly protruding iSight camera next to thick antenna bands at the top and bottom. And a beautiful lightening Apple logo in the center and typical iPhone tagline underneath.
The smartphone still has an anodized aluminum finish to keep your iPhone 6 looking new. The chamfered edges are replaced with a smooth, seamless bond of metal and glass that could be less prone to cracking or shattering if you drop your iPhone. The use of ion-strengthened glass should also make the iPhone 6 more resilient at surviving the impact of a drop.
The design of The iPhone 6 features vs iPhone 6 Plus are still feel familiar for the most part. But to compare between a rounder iPhone 3GS and Iphone 6 the difference is huge.
Retina HD Display
The first smartphone that has a Retina display was the iPhone 4. That is the marketing term to describe any device with a high-resolution screen. Four years later, the iPhone 6 and iPhone 6 Plus have become the first smartphones to feature Retina HD displays.
The standard 4.7-inch model has a resolution of 1,334 x 750 pixels. Which is density of 326 PPI. Althouh, the larger 5.5-inch model becomes the first iPhone to be 1080p with a full 1,920 x 1,080 pixels resolution and 401 PPI. Both resolutions definitely raise the bar over the iPhone 5s, which measures at 1,136 x 640 pixels.
The all-new Retina HD Display includes a lot of innovation. They are: a full sRGB color standard, higher contrast and so-called incredible brightness and white balance. To achieve higher contrast, Apple developed an advanced process of photo alignment .This process involves using UV light to precisely position the display?s liquid crystals so they lay exactly where they should. The end result is a better viewing experience, with deeper blacks and sharper text.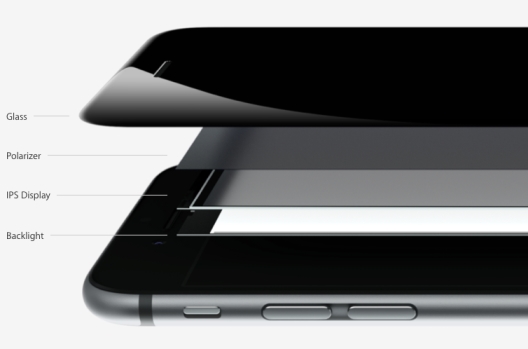 A wider viewing angle is the result of dual-domain pixels that enable color accuracy from corner to corner. When you're wearing sunglasses an improved polarizer provides you with a clearer view of your iPhone's display. The four main components of a Retina HD Display are the glass, polarizer, IPS display and backlight.
The Retina HD Display also has an innovative new feature called Display Zoom. With a higher resolution screen, the ability to scale the Home screen or apps makes a lot of sense. Also the iPhone 6 Plus has a Landscape view on. It allows you to view the Home screen and several stock apps in a new dimension.
Cameras
The iPhone 6 and iPhone 6 Plus have got an improved 8-megapixel iSight rear-facing camera that packs a long list of new features:
Focus Pixels: Focus pixels are enabled through Apple's new image signal processor. These pixels provide the sensor that carries more information about your image. This leads to better and faster autofocus that can even be seen in preview.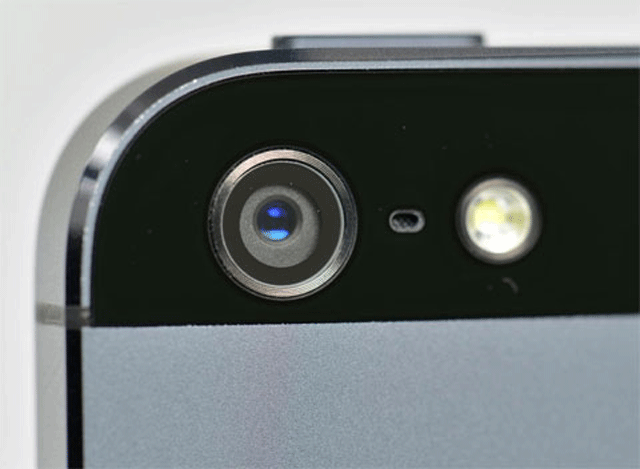 Optical Image Stabilization: Apple has added optical image stabilization exclusively to the 5.5-inch iPhone 6 Plus. This feature the company describes as working with the Apple A8 processor, gyroscope and M8 motion coprocessor to measure motion data and provide precise lens movement to compensate for hand shake in lower light. The fusion of long- and short-exposure images helps to reduce the subject motion.
Face Detection: The new iSight camera has the ability to recognize faces faster and more accurately, when you are far away in the distance or in a crowd. The result is better portrait and group shots, with improved blink and smile detection and a selection of faces in burst mode.
Exposure Control: with a simple slide this feature enables you to lighten or darken a photo or video in the preview pane. You can go up to four f-stops in either direction.
1080p HD at 60 FPS and Slo-Mo Video at 240 FPS: When you shoot HD video on the iPhone 6, there is an option of recording at 60 frames per second. You can capture more action in each second and create sharper images that translate to more true-to-life video. Likewise, there is an option to shoot HD video at 120 fps or 240 fps in 720p in slow motion & full videos or parts.
Time-Lapse Videos: iOS 8 enables iPhone users to create time-lapse videos that will snap photos at dynamically selected intervals. When they are stitched together, they create these still videos that have a very cool effect.
Continuous Autofocus: This is described as an advanced optical feature that makes use of Apple's new Focus Pixels technology to ensure that shots remain sharp and stay that way while you're recording. Even if subjects or objects move. Faster autofocus means fewer inadvertent focus changes as well.
Cinematic Video Stabilization: The cinematic video stabilization aims to fix the shaky videos, by keeping your shots steady and as smooth as gliding through the scene on a rig.
Apple has also improved face detection in the front-facing FaceTime HD camera on the iPhone 6 and iPhone 6 Plus. Added a larger aperture and all-new sensor technology for capturing 81 percent more light.
A8 Chip
A larger screen needs a more powerful processor. The new Apple A8 chip features second-generation 64-bit desktop-class architecture and an advanced 20-nanometer process. It delivers performance up to 50 times faster, and with up to 50 percent more energy efficiency, than the original iPhone. Accompanied by a new M8 motion coprocessor, graphics performance is also up to 84 times faster than the original iPhone.
The A8 chip uses an advanced 20-nanometer process. It is 13% smaller, but delivers 25 percent improved performance with up to 50 percent more energy efficiency than the A7 chip, which powers iPhone 5s.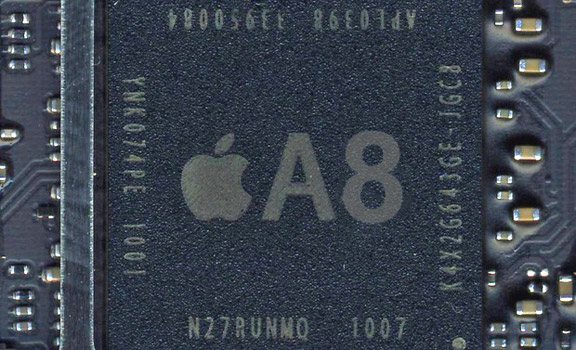 Apple details the following about the M8 Motion Coprocessor:
"When you?re in motion, the M8 motion coprocessor continuously measures data from the accelerometer, compass, gyroscope, and a new barometer. This offloads work from the A8 chip for improved power efficiency. And now those sensors do even more, measuring your steps, distance, and elevation changes."
Battery
Apple claims that battery life on the iPhone 6 and iPhone 6 Plus either matches or outperforms that of the iPhone 5s.
Some comparison of battery life on the iPhone 6 and iPhone 6 Plus based on several categories: audio, HD video, Wi-Fi browsing, LTE browsing, 3G browsing, 3G talk and standby time.
On a single charge, the iPhone 6 gets up to 50 hours of audio playback, up to 11 hours of HD video playback, up to 11 hours of Wi-Fi browsing, up to 10 hours of LTE browsing, up to 10 hours of 3G browsing, up to 14 hours of 3G talk and up to 10 days or 250 hours of standby time.
Although, the iPhone 6 Plus has a larger battery capacity and better battery life. Therefore, gets up to 80 hours of audio playback, up to 14 hours of HD video playback, up to 12 hours of Wi-Fi browsing, up to 12 hours of LTE browsing, up to 12 hours of 3G browsing, up to 24 hours of 3G talk and up to 16 days or 384 hours of standby time. The actual capacity of the lithium-ion batteries has not yet been confirmed.
Connectivity
The iPhone 6 features vs iPhone 6 Plus have improved wireless connectivity for faster LTE download speeds of up to 150 Mbps. The iPhone 6 users can experience faster download and upload speeds for browsing the web, streaming music, making video calls and more. The devices also support Voice over LTE, or VoLTE, enabling wideband high-quality calls that are crisp and clear sounding.
The iPhone 6 has up to 20 LTE bands. This allows the iPhone 6 to connect to more high-speed LTE networks in more areas, convenient for travelers that are data roaming or those that live in international countries. Plus, you can keep browsing on iPhone 6 while you are talking, with simultaneous voice and LTE data.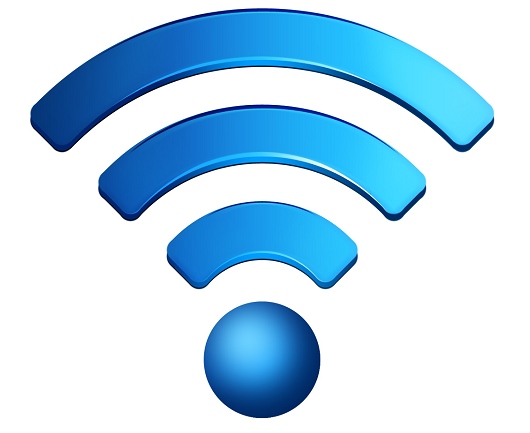 With new support for 802.11ac, there is also up to three times faster Wi-Fi on the iPhone 6 over the 802.11n technologies used on previous iPhones. A new feature allows you to initiate calls over Wi-Fi using your own phone number. And your call can seamlessly transition to VoLTE once you go out of range of your Wi-Fi connection. When you're traveling between your house, car, work, airport or so forth, this feature is ideal.
Storage and Colors
The iPhone 6 and iPhone 6 Plus are available in 16 GB, 64 GB and 128 GB storage capacities. You can choose one of three colors: space gray, silver and gold.
Availability and Accessories
You could pre-order iPhone 6 and iPhone 6 Plus from September 12th. Before the  public release on September 19th in the the United States, France, Hong Kong, Canada, Germany, Singapore, the United Kingdom, Australia and Japan. Apple plans to launch the Smartphones in 115 countries by the end of this year.
The second wave of lunching the iPhone 6 and iPhone 6 Plus will begin on the 26th of September. That countries are Switzerland, Italy, New Zealand, Sweden, Netherlands, Spain, Denmark, Ireland, Norway, Luxembourg, Russia, Austria, Turkey, Finland, Taiwan, Belgium, Portugal. The United Arab Emirates will begin selling the iPhone 6 on September 27th.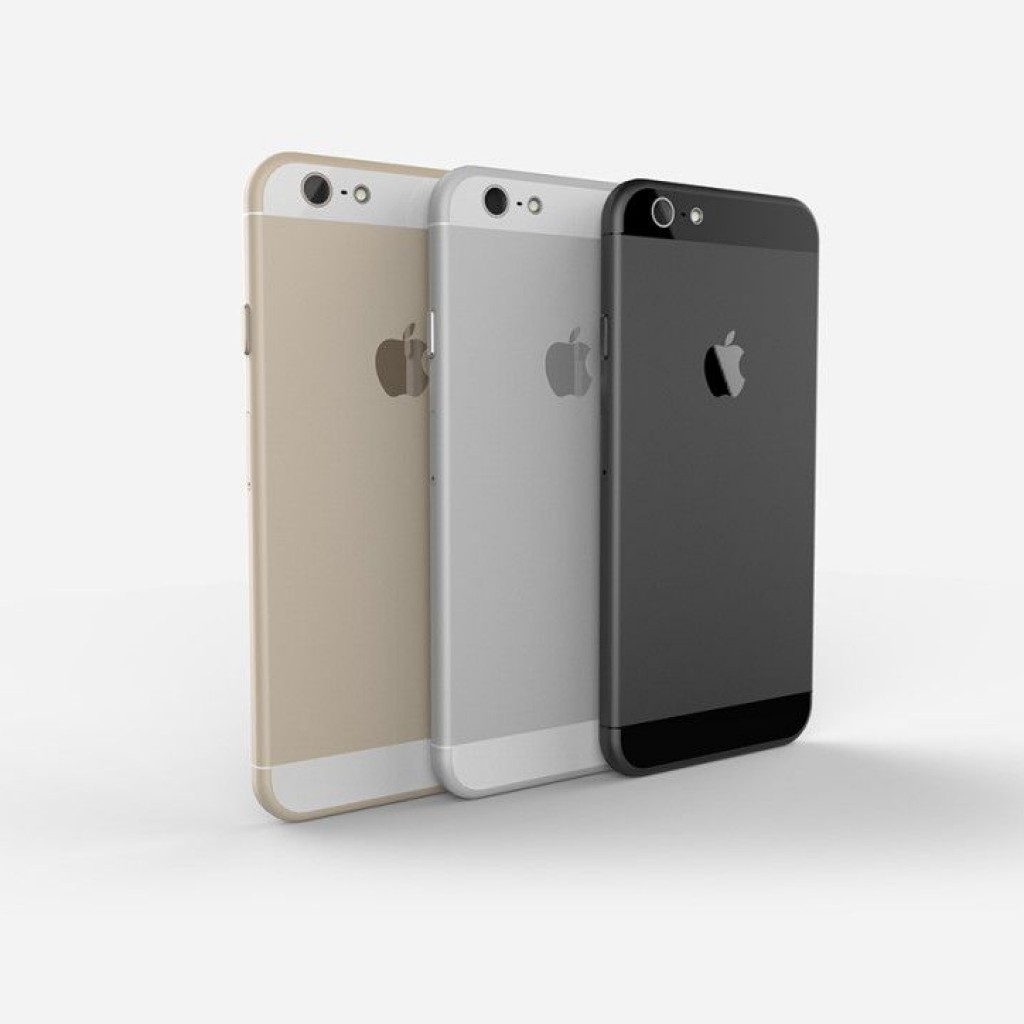 Apple is selling both Leather Cases and Silicone Cases for the iPhone 6 and iPhone 6 Plus. Leather Case is made from premium, hand-crafted leather treated with high-quality aniline dye, designed to fit perfectly over the curved form of the iPhone 6 and iPhone 6 Plus with color-matched microfiber interior to keep the smartphones protected. The colors are brown, black, beige, navy blue and red for $45 to $49.
The Silicone Case is a new custom-fit case that covers the iPhone 6 and iPhone 6 Plus while maintaining an incredibly slim form factor. It is available in the colors black, sky blue, pink, green, white and red for $35.
All of the cases and accessories are available for purchase at the Apple Store both online and in store on September 19th.
Apps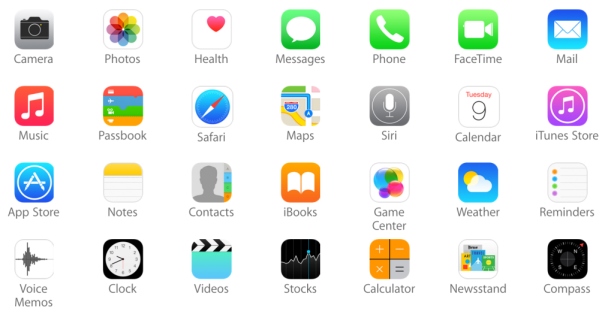 iPhone 6 and iPhone 6 Plus come with several built-in apps right out of the box. The Apple company also offers a selection of free apps that can be downloaded through the App Store.
Built-in Apps: Camera, Photos, Health, Messages, Phone, FaceTime, Mail, Music, Passbook, Safari, Maps, Siri, Calendar, iTunes Store, App Store, Notes, Contacts, iBooks, Game Center, Weather, Reminders, Voice Memos, Clock, Videos, Stocks, Calculator, Newsstand, Compass, Podcasts
Free Apps from Apple: iMovie, Pages, Keynote, Numbers, iTunes U, GarageBand, Apple Store, Trailers, Remote, Find My iPhone, Find My Friends
Pricing
Based on a new two-year contract the iPhone 6 and iPhone 6 Plus price are available starting at $199 and $299. The devices are also offered unlocked for a full retail price starting at $749 and $849 respectively, which can be paid upfront or in monthly payments through carrier financing programs like AT&T Next, Verizon Edge and T-Mobile Jump. The complete pricing breakdown is as follows, based on iPhone model and storage capacity.
Contract Price                    Unlocked Price
iPhone 6 (16GB)                 $199                                         $649
iPhone 6 (64GB)                 $299                                        $749
iPhone 6 (128GB)               $399                                        $849
iPhone 6 Plus (16GB)         $299                                        $749
iPhone 6 Plus (64GB)         $399                                        $849
iPhone 6 Plus (128GB)        $499                                       $949