Hackers found a way how to perform iOS 7.1 jailbreak on the iPhone 4S. This information is official and confirmed by iH8Sn0w. 
Previous news showed us an iPhone 4 with iOS 7.1 being jailbroken. Now iH8Sn0w found a way to
release iOS 7.1 jailbreak
iPhone 4S solution. This hacker has confirmed that the jailbreak is real and working. It really supports Apple smartphone model 4S running the most recent mobile firmware presented in March.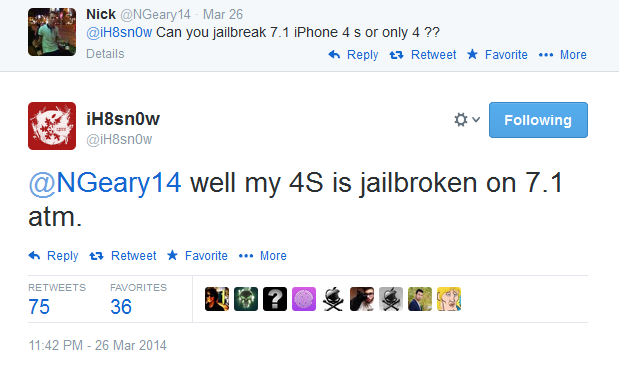 There is no a video with a jailbroken iPhone 4S. Such a video was posted showing an iPhone 4 with iOS 7.1 jailbreak a week ago. At the same time, hacker confirmed that iPhone
iOS 7.1 jailbreak exists
for the model 4S as well.
iOS 7.1 Jailbreak for iPhone 4S Confirmed by iH8Sn0w
One fan asked the hacker whether he could untether only the model 4 or the 4S as well. The answer is surprising and curious, because iH8Sn0w said that his 4S was also jailbroken. 
At the same time, he assured that the public 7.1 jb doesn't exist at the moment. All sites that share such links are "false" and fake. 
We don't know if the jb supports iPhone 5S / 5 / 5c. It is also not clear whether users will see the public release any time soon.
READ MORE +