During the last few months there has been much talk about the next Apple's device, especially about its retina display. And a number of pictures of displays said to be for the iPad 3 have appeared from different sources.
Such parts leaks are normal with the device's predicted release early next month. While reports have stated that these displays are high-resolution "Retina" displays, there's been no real proof of these statements up to now.
One of the popular websites has got hold of one of the iPad 3 retina display and look at it under a microscope in order to see whether it is really an ultra-high resolution Retina display.
As expected, physically, the supposed iPad 3 retina display is exactly the same size as the existing iPad 1 and iPad 2 display at 9.7″ in diagonal, and looks very much the same to the naked eye.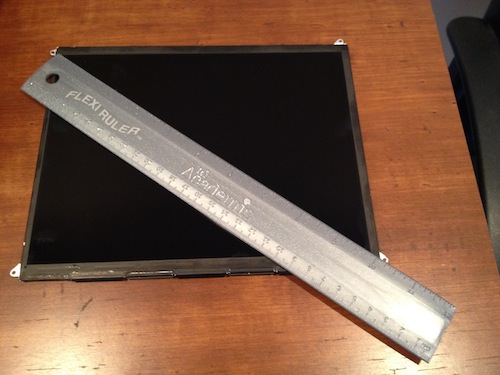 But, when they compared the iPad 3 retina display to one from an iPad 2 under a microscope, the real difference in resolutions gets readily clear, with the iPad 3 display's pixels appearing to be one-quarter the size of those found on the iPad 2.
Due to the fact that we just had a raw iPad 3 display without any method to power it, taking high quality pictures of the pixels was really difficult. Nevertheless, even with the somewhat poor lighting, it is simple to make out the pixels on each display (made up of green, red and blue elements).
They highlighted a cluster of 4 pixels (2×2) from the iPad 2 in order to compare it to the same area on the iPad 3. On the iPad 3, the same cluster was occupied by 16 pixels (4×4) – just twice the resolution in each direction.
Certainly, with the Retina display now a cert, attention will turn to additional features – such as the camera – which will probably be improved to go with the new display. Rumours and leaks have suggested either the iPhone 4 or iPhone 4S camera will be used, but even if this does not become the case, one would believe the Apple will give its tablet users a true reason to frequent the numerous image social networks floating around.
The release of iPad 3 with retina display is expected on March 7th – just one week time, and I'm sure you can't wait for the grand unveiling!
READ MORE +