There is a big number of interesting jailbreak tweaks for iPhone, and such applications are mostly meant to improve your experience with Apple device. You can download the new program to unlock your iPhone using gesture. The application you'll need is called Genie. 
Just like a lot of others simple yet genius creations, this jailbreak tweak for iPhone can unlock your screen with different gestures of your choice. You can use it at home when you are sure that no one wants to get an unauthorized access to your smartphone and you are tired of entering passcode every time you wish to use your Home screen.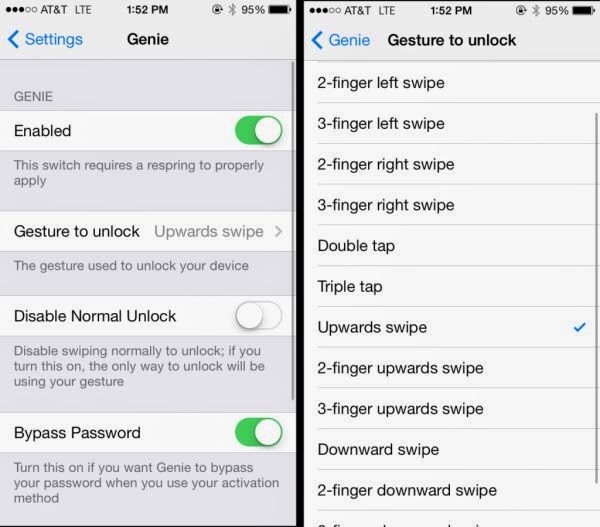 To unlock iPhone with gestures, install Genie and choose your secret way to unlock the gadget while the passcode is still turned on. Most iPhone jailbreak apps are easy-to-use. The same thing happens to Genie which has simple settings where you can choose your gesture. You can also turn off this features to enable normal unlock option. Another option allows you to bypass your passcode.
You can unlock iPhone 5 with gestures for $0.99 [this is the application pricing on Cydia where you can download it]. Remember that once you choose to turn off normal unlock you will be able to unlock your gadget with the secret gesture only as there will be no passcode screen at all. Use it smartly and search for other useful iPhone jailbreak tweaks for iOS 7 and iOS 8 once the new firmware becomes public.
READ MORE +