Find My iPhone app was implemented to help tracking the lost or stole iPhone. This feature was improved in iOS 7 release and will definitely be enhanced with iOS 8 public release this fall. Unlike it was in iOS 6 when third-party users could easily turn off Find My iPhone program, it is now impossible to do so without the original owner's ID and passcode.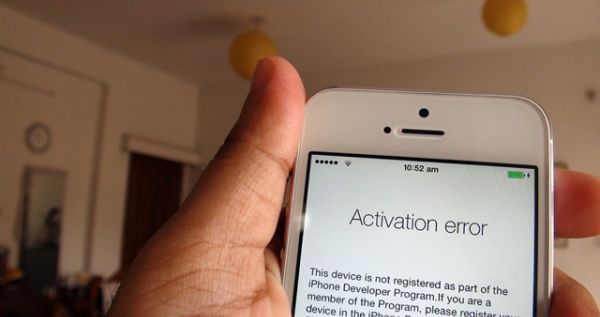 Bypass iOS 8 Activation Lock Screen
Find My iPhone being enabled also enables Activation Lock feature. This is the new thing that exists since September 2013 and iOS 8 activation error can be bypassed the same way as it happens with iOS 7 devices.
There are different companies that can bypass iOS 7 and soon iOS 8 activation lock option without the ID and passcode by deleted the connection between iCloud account and iPhone. If you happen to purchase a used smartphone with iOS 8 on it and Find My iPhone being on, don't worry and you will be able to bypass iOS 8 activation lock without the credentials from your reseller.
Sometimes sellers don't remember their ID and passcode and simply don't answer your questions about this leaving you alone with a useless iPhone. Once you try to resent, restore, jailbreak or unlock your device, disable Find My iPhone or delete everything from the handset, iOS 7 and soon iOS 8 asks for Apple ID and passcode from the iCloud account related to your handset.
If you don't know this ID and password you cannot continue using your gadget. It will leave you with Activation Lock screen. This is frustrating until you order iOS 8 lockscreen bypass service that works only for clean IMEIs.
You can check your IMEI which can be found in Settings or through *#06# combination and make sure it hasn't been stolen, lost, blocked or blacklisted. The company will allow you bypass the lock screen by removing this problem through the official database.
How to Fix iOS 8 Activation Error
If you come across iOS 8 activation error right now while installing the beta version on your iPhone you can fix the problem by downgrading back to iOS 7.1.x and then updating to iOS 8 beta once again. Here is how to do this without UDID.
Step 1. Download iOS 7.1.2 which is the latest version available and save it on your computer.
Step 2. Open iTunes and connect the device.
Step 3. Put your iPhone into DFU state. The display must be black.
Step 4. iTunes will tell you that you are not able to use your gadget till you restore it. Say OK.
Step 5. Press Shift on Windows or alt/option on Mac while selecting Restore iPhone. Then you should point to iOS 7.1.x you have obtained in the very beginning.
Step 6. iTunes should dongrade you and then you can complete installing iOS 8 without getting activation error.
Step 7. This can be done through iTunes. Just keep pressing Shift on Windows or alt / option on Mac when you select Update option.
That's it.
READ MORE +