Apple company was awarded Displaying a synchronized instance of content on a portable electronic device patent by The USPTO office. It lets iOS device owners to view a video stream on their device that is optimized to a 'Fixed Display Device' like their Apple TV or iMac.
In the patent, Apple provides an example of how a group of young people meet together to watch a movie that is streamed via Netflix or iTunes Store to their Apple TV. When one person need to go out due to some reason, others have two variants: continue watching the movie or wait for the person to come back. To fix this poor user experience, Apple's patent suggests according to AppleInsider:
"a system that uses a portable device to locate the source, name and timestamp of media being streamed to a streaming device, then plays back said content in lockstep."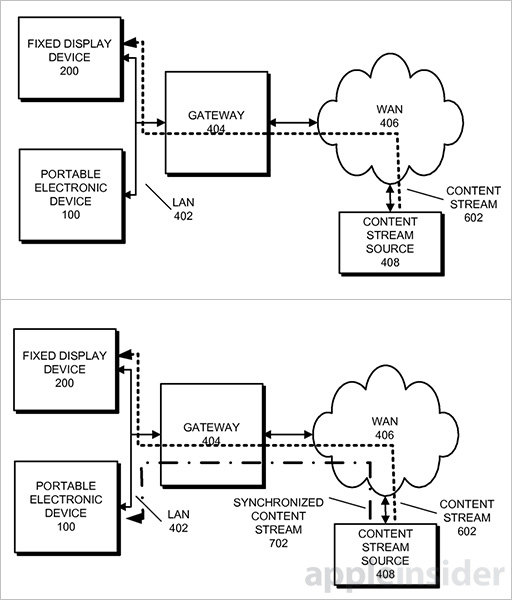 Apple patent for synchronizing content introduces two ways of stream transmission. If the stream source can be retrieved independently and the iPhone /iPad can get the stream directly, a stream synchronized playback will start on these devices. As you see the will not exactly be mirrored from the Apple TV or other 'Fixed Display Device.' In the other case when the device is unable to reach the device directly, or the stream is incapable of being played back natively on the device, a synchronizing request will be sent from the device to an Apple TV unit.
The patent also reveals that Apple is working on enabling reverse AirPlay mirroring i.e. Apple TV to iOS mirroring, which is at present time not possible.
The Apple's patent seems to be very useful for us. We will see whether it allows the company to go ahead and implement this feature in its iOS devices.
READ MORE +