Not all iOS 8 users choose to jailbreak their smartphone. Not all firmwares released in 2015 can be jailbroken. For example, it is currently impossible to jailbreak iOS 8.1.3 and 8.2, but there is one interesting hack that lets you hide apps if iPhone is not jailbroken.
This is not just about adding all stock apps you don't need into a folder that you leave on your home screen. There is a method that helps to hide iPhone apps with no jailbreak necessary. It works on all versions of mobile operating system you might be using and it doesn't harm your gadget.
How to Hide Stock Apps on iOS 8 iPhone
This is an instruction which is not that simple and fast to complete. It often takes a user several attempts in order to successfully finish all the steps. Everything is pretty tricky but you can manage everything.
Step 1. We'll use one iOS 8 glitch which helps to delete stock applications but this solution is not permanent. Here is what you have to do.
Step 2. Add apps on your home screen. There should be no free spaces. The app you wish to remove has to be located the last at your display's bottom right. It is highly important to do as advised.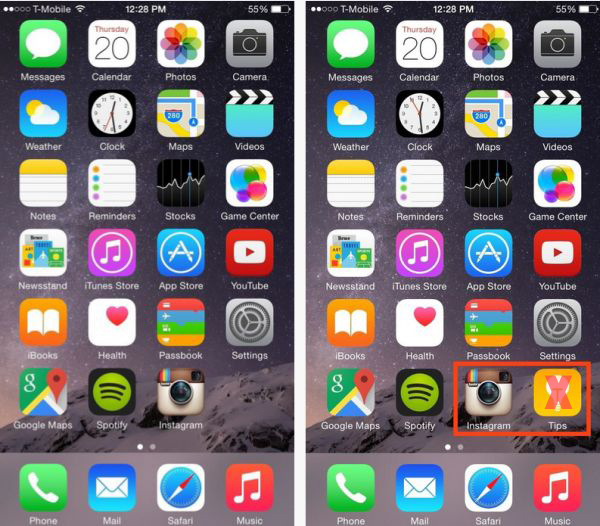 Step 3. You should now let the glitch hack the device by deleting one application you don't want. Click-hold on any program on your screen in order to enter the editing mode.
Step 4. Move the app located next to the stock one you wish to delete on top of it in order to make a new folder. Now click outside of this newly created folder to return to the screen.
Step 5. Click on the folder to choose it and move the app you moved in Step 4 out of the folder. It will return on the home screen and be placed near the folder.
Step 6. Click on the folder once again. Move the app you planned to remove out of this folder. You have to place it on the screen just in the place where the folder was existing and do this as quickly as possible. If you are quick enough both the folder and your stock app will be removed this way.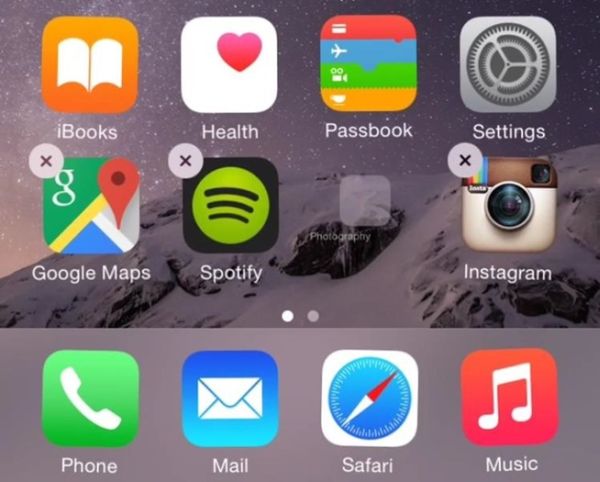 You can free some space on your home screen after you remove apps you don't use from your home screen. This hack is tricky but it allows clearing your display and place there only the programs you are using.
Thanks to iOS 8 glitch the app is only temporarily deleted from the screen. It will get back on your home screen after you restart the smartphone.
READ MORE +