The new iPad Pro presetation is already taking place in some Apple Stores in U.S. If you are planning to purchase this device you can either order it online or visit your local store [some users wonder why App Store apps disappear from the store]. Some American carriers also offer the 2015 tablet so you might like to check the price in their locations as well to get the best deal.
Each potential customer should compare iPad Pro price and offers since some networks are eager to sell the device at a lower price if you agree to sign up the contact or introduce some other delicious offers you might be happy to try out.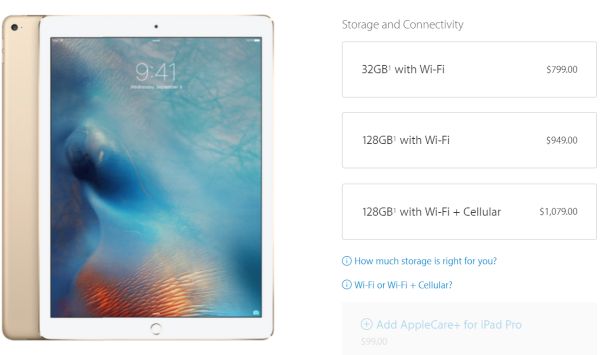 Some users already got their first device as the expected shipping date for the first orders was by end of the week. There is no need to wait for shipping since you can take a tour to your local stores on weekend and purchase the device if the stock is available.
Some American networks will carry the latest models the next week. Others are already selling the iPad Pro with in-store pickup or shipping options. The gadget comes with 12.9-inch display. According to Apple, this latest model has much better performance than the iPad Air 2. It's bigger and its improved multi-touch technology promises more productivity to users.
iPad Pro Buy in USA Pricing
If you decide to choose the tablet you'll be able to create and edit 4K videos right on the device [learn how big 4K video can be on iPhone]. iPad Pro buy online guide is simple. Visit the retail store that has the device, choose the color [there is silver, gold and space gray], select the storage capacity and you'll see test the A9X chip and all the options brought right in time for holiday season.
You can choose between 32GB and 128GB. Apple offers WiFi only [both 32GB and 128GB models] and WiFi + cellular 128GB version. The price starts at $799 and reaches $1,079. What device would you like to find under your Christmas tree this year: iPhone 6s or iPad Pro?
READ MORE +