iOS 6.1.3 Jailbreak Update: P0sixspwn 1.0.7 Release
Hackers presented another update for iOS 6.1.3 jailbreak tool called P0sixspwn available for both Windows and Mac operating systems. It comes with some fixes to problems discovered in previous releases. You can download jailbreak for iPhone 5 iOS 6.1.5 and other supported Apple models with versions 6.1.3 – 6.1.5.
Should you get v.1.0.7 of P0sixspwn? Will it improve your performance? Is there need to re-jailbreak? We are sure that a lot of users wish to get answers to these and other questions. We'll surely provide direct download links for you in case you decide to use the upgraded program on your iDevice.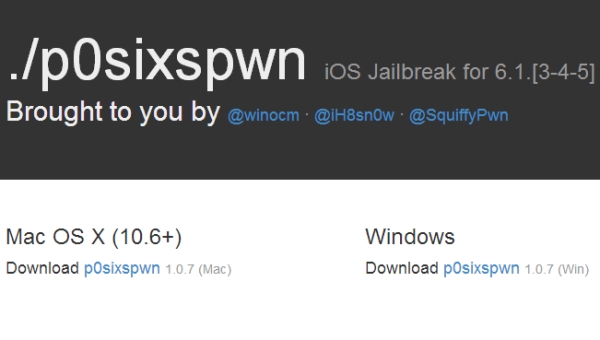 We should note once again that P0sixspwn 1.0.7 works on Windows PC and OS X Mac machines. It also fixes the problem faced by users who tried to jailbreak with version 1.0.6 and failed to get the successful result. The process simply caused different reboot problems, showed errors or didn't work at all.
If your previous attempt was unproductive you are advised to try the new version and jailbreak iPhone 5 iOS 6.1.5, iPhone 4S, iPhone 4 and different iPads [4, 3, 2] with this utility. According to iH8sn0w, this time everything should be much better. Besides, the tool solved the issue with Cydia. Some users who managed to jailbreak last time had no Cydia. Now this popular store with jailbreaking tweaks should be installed on your smartphone or tablet after jailbreak.
The instruction is similar to previous P0sixspwn guides. You will have no problem, so feel free to download the tool from here:
Mac version of P0sixspwn 1.0.7
Windows release of P0sixspwn v.1.0.7
Remember to being with backing up your gadget. The jailbreak is untethered. You won't have to re-jailbreak each time your reboot or restore. Don't hesitate to start using third-party apps and games on your fruit device as millions of other Apple fans already live without limits.