iOS 6.1 Update Activation Problems Fix
Sometimes users see the "after iOS 6.1 update no SIM" error which can be solved, and we know how you can fix iPhone activation problems. A lot of people waited till Apple released its public version of firmware iOS 6.1 to upgrade. At the same time many of users faced iOS 6.1 update activation problems and got upset over them.
There is no need to be upset. We will tell you what you can do in case you get the following message from iTunes, "There is no SIM card installed in the iPhone you are attempting to activate."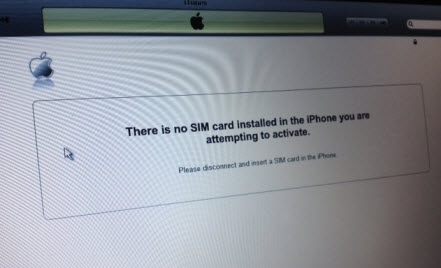 Step-by-Step Guide
Stay calm after iOS 6.1 update "no sim" message discovered while you are sure that you have inserted SIM card into your smartphone. It's not a big deal, especially if you are reading this article right now. Here are some ways on how you can easily fix some iPhone activation problems you might come across.
Also if you have message like: "We're sorry, we are unable to continue with your activation at this time. Please try again later, or contact customer care" go and fix iPhone activation problem using complete guide
Fix Solution 1
You should try to take your SIM out and insert it once again. Try to do this a couple of times if the first attemp hasn't been successful. In case your iOS 6.1 update activation problems don't go away, try the second advice.
Fix Solution 2
If iTunes program keeps telling you "There is no SIM card installed in the iPhone you are attempting to activate," and the first fix didn't help you to solve this issue try to use another SIM card. You can borrow one from your friends or relatives. It sometimes happens that older SIMs cannot activate iOS handsets with iOS 5 and above installed.
Fix Solution 3
In case the two previous fixes didn't help you, go to your network provider and ask to replace your SIM card. Make sure you insert the new card into the smartphone you have and see how it works while you are at the carrier's office.
P.S. In case you cannot activate iPhone on iOS 6.1 because of its baseband 6.15.00 you can try to downgrade iPad baseband 6.15.00 to 5.13.04 using our guide.