Expect iPhone 5 and iOS 6 Release Date At WWDC12
I have a proof where is clearly seen that iOS 6 release date at WWDC12 takes place this Monday. You can see the picture of the iOS 6 banner in Moscone West, San Francisco. Also there are predictions that we may also see iPhone 5 release date (or just new iPhone).
But there is no proven facts that we will see iPhone 5. However we can't say so about iOS 6 release date at WWDC this Monday (June 11) all iPad and iPhone users can enjoy new iOS from Apple. And we I can state that because we can see it on the banner below.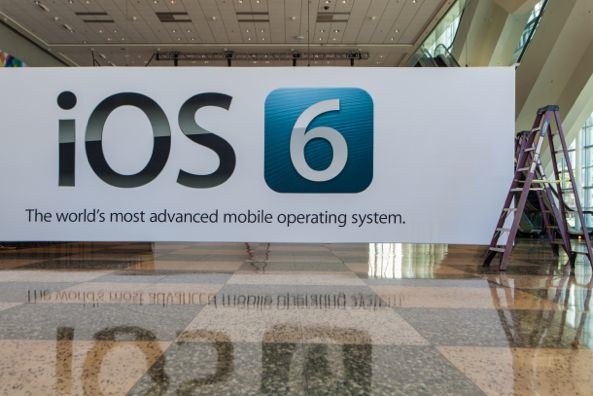 A few days ago we showed you the video of iOS 6 concept and you can see what features it will bring a lot of amazing features. Notice that it is not 5.1.2 or 5.2, it is 6 and 6 means many new features and nobody can know all of them except Apple developers. But I tried to gather the most features of the new OS from Apple. Take a look at them in the list below.
iOS 6 Features
Facebook Integration
iClaud Taps
Improved Email Options and Do Not Disturb option
Siri for iPad 3
iOS 6 Maps
These are the most discussed iOS 6 features. As for me the best feature is Siri for iPad. I think that many Apple admires had been expecting for Siri comes with new iPad. But it didn't happened so the all hope for new Apple OS.
iOS 6 release date is going to be at WWDC12. WWDC is a World Wide Developers Conference where Apple likes to make big announcements. I can't say for sure what announcements we can expect from WWDC12 on Monday but I've got some for you. You can see below predictions which we can expect from WWDC12 and iOS 6 release date is one of them.
WWDC12 Announcements
iOS 6
iPad Mini
new Apple TV
Retina MacBook Pro
iPhone 5
OS X Mountain Lion
And other Hardware announcements
But looking at these WWDC12 announcements I don't expect iPhone 5 and iPad Mini. However who knows. It is only rumors and predictions. As you saw on the pictures above we could expect iOS 6 release date at WWDC12 for sure and enjoyed its new features.
The only thing we can wait then is iOS 6 jailbreak but it depends on iPhone Dev teams and other enthusiasts who have hacker's skills.
What do you think about all these? Do you believe in iPhone 5 release or iPad Mini or Siri for iPad 3 etc.? Leave your thoughts about all this stuff in comments form below and after iOS 6 release date at WWDC12 we will see what we have on not.