iOS 7.0.6 Untethered Jailbreak for iPod touch, iPhone and iPad
Evad3rs released their update for iOS 7.0.6 jailbreak soon after Apple presented this new firmware version for public download. Evasi0n7 v.1.0.6 is designed to perform untethered jailbreak on any iDevice that is supported by this mobile operating system, including iPhone 5S and 5c, iPhone 5 / 4S / 4, iPad mini, iPad Air, iPad 3 / 4 / 2, and iPod touch 5G.
While it looks like it is impossible to jailbreak the next iOS 7.1, iOS 7.0.6 is still jailbroken. Here is how you can free your gadget for all third-party apps, tools and games, along with Cydia store treasures and tweaks.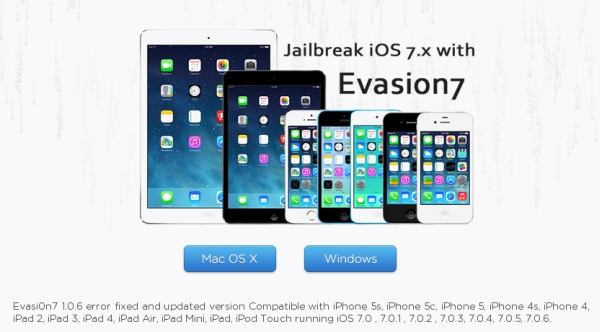 Preparation for Jailbreak
There are a couple of things that are must done before you start with jailbreaking. It is advised to install the latest version of iTunes or update your iTunes to the newest build. You should also backup the iPhone, iPad or iPod touch via iTunes. This is your protection in case anything goes wrong while untethered jailbreaking.
It is also required to turn off backup encrypting option. To do so, launch iTunes and uncheck the filed "Encrypt iPhone backup" which you should turn on right after you have jailbroken.
Unlike factory unlock, jailbreak voids iDevice warranty. Everything you are doing is at your personal risk.
iOS 7.0.6 Jailbreak Instruction
Step 1. Download your version of Evasi0n7 1.0.6 using links below:
Step 2. The file should be saved on the desktop, extracted and opened. If you are using Windows PC you should run this program as Administrator.
Step 3. It is required to turn off your iOS 7 Find My iPhone feature. Go to Settings – General section and choose Passcode Lock On – Turn Passcode Off option. You will later turn it on if needed.
Step 4. Once launched, Evasi0n7 will ask you to plug in your iDevice to your computer. Do so.
Step 5. Wait till the jailbreak tool detects your iDevice and version of mobile firmware you are using.
Step 6. Press on the Jailbreak to begin the process. Wait till the program does what it is supposed to do.
Step 7. Don't do anything till your device is rebooted.
Step 8. You can now unlock the gadget and find Evasi0n7 app icon on your Home screen. Click on it and let the iDevice reboot once again.
Step 9. The jailbreak will continue. When it is over you will see Cydia on your Home screen. This means you have successfully jailbroke your iPhone, iPad or iPod touch running iOS 7.0.6 firmware.