New iOS 7.0.6 Update for iPhone / iPad / iPod Touch | Download Links
The Cupertino-based giant updated its iOS firmware letting all iPhone, iPod touch and iPad users to install the latest available iOS 7.0.6 and get fix to some bugs experienced in previous versions of this mobile operating system for iDevices. iOS 7.0.6 is known under the number 11b651.
The file is not too heavy. You can download iOS 7.0.6 for iPhone 5S file at 35.4MB. The build number's weight is similar for other smartphone models.
Update: If you are looking to jailbreak iOS 7.0.6 untethered you can use new Evasi0n7 update.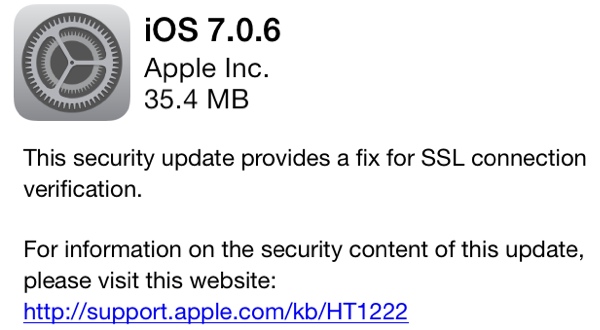 The update fixes SSL connection verification issue noticed in earlier versions of mobile firmware. This hole made it possible for hackers to change your data or capture information from your gadget. Thus secure sessions protected by TLS / SSL were questioned till this launch.
Supported Models
iOS 7.0.6 is designed for iPhone 4 / 4S / 5 / 5S / 5c, iPad 2 / 3 / 4, iPad Air, iPod touch 5-gen, iPad mini.
Download iOS 7.0.6 Using Direct Links
How to Install iOS 7.0.6
You can follow one of the two ways in order to update to the newest mobile firmware. Firstly, you can upgrade via OTA. Secondly, you can launch iTunes and upgrade to the latest operating system via it.
About the New Apple Firmware for iDevices
Previous update was introduced about 3 weeks ago. It supported only Chinese and some European models. iOS 7.0.6 works for all countries.
Download iOS 6.1.6
Apple also presented the new iOS 6.1.6 update under the build number 10b500. It supports older models, including iPod touch 4-gen and iPhone 3GS. These devices can't get iOS 7 and it doesn't support them, but they can work on iOS 6.1.6.
You can install this upgrade via Software Update feature by going to Settings app. Or you can download the firmware via iTunes on your Mac / PC or from the link below:
A lot of people are still waiting for the next big update iOS 7.1 which is still available in betas only. Developers and some users continue testing this version. We may see its final build in mid-March.