iOS 7.1 Untethered Jailbreak for iPhone 5S / 5C Claimed to Be Released!
With iOS 7.1 release being available for public download iPhone, iPad and iPod touch users line up to read iOS 7.1 jailbreak news hoping to see the release date or even download link for Evasi0n7 with support for this newest firmware. You can even find messages on Facebook and other social networks that assure there is iOS 7.1 jailbreak program you are able to download "from here."
Some blogs keep telling they can jailbreak your iOS 7.1 iDevice directly from the smartphone or tablet. Don't believe such "news" as this is real fake. Eva3drs haven't launched a new jailbreaking program or updated their famous Evasi0n7 which can still perform jailbreak for iOS 7 firmware up to version 7.0.6 and not above.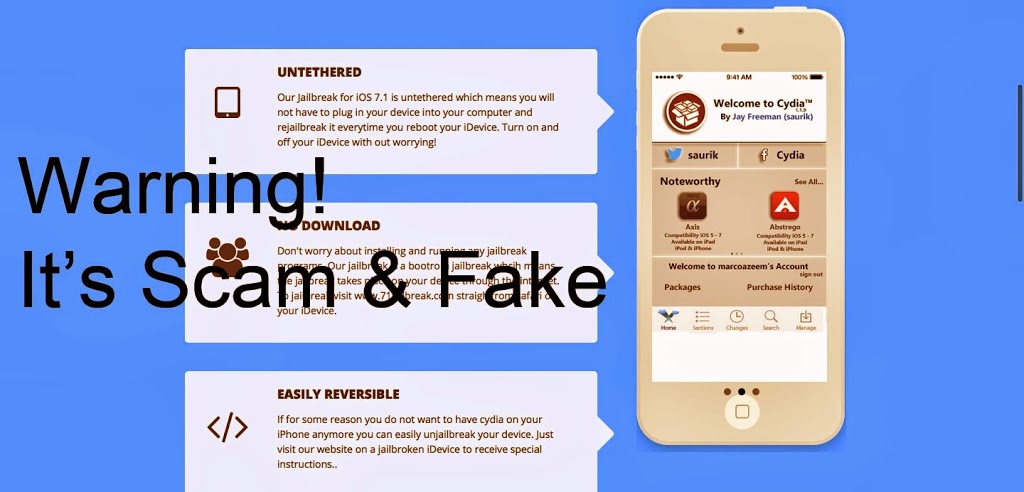 Hackers will report officially their iOS 7.1 jailbreak event. Their Twitter accounts have no such news at the moment. Their official websites with Evasi0n7 software has no news about support for firmware version 7.1.
There are a lot of fake reports on iOS 7.1 jailbreak within a week of the firmware update release. Don't believe everything you read unless you are following hackers' blogs and official websites. Once such programs appear for public use, they will be free to download with detailed instructions introduced by Evad3rs or some else known in the jailbreaking community.
Here is the list of official sources where you can find real information about the state of working jailbreak for iOS 7.1 device:
http://letsunlockiphone.guru/ – the freshest news about any change in iOS 7.1 untethered jailbreak development.
https://twitter.com/evad3rs – Twitter account of this famous team that created Evasi0n and Evasi0n7 jailbreak solutions for iOS 6 and 7 up to version 7.0.6
http://evasi0n.com/ – the official Evasi0n jailbreak tool website where you can download available versions for this program for Windows and OS X computers
There are two main sources you can use to check for iOS 7.1 jailbreak news and sources.
By the way, Pod2g [Evad3rs member] actually said the team is not into full jailbreak development. Hackers are most likely waiting for the next firmware 8 release.