iOS 7 Beta 1 Expiration Date
This information will be useful to iOS developers and users who have downloaded and installed the new iOS 7 beta 1 presented by Apple on the first day of WWDC 2013. Even though this firmware has been originally meant for developers with a registered UDID and active account at iOS Dev Center we all know that anyone who is not afraid of taking risks can update to this beta and see what iOS 7 features will be available to public in fall.
When does iOS 7 beta 1 expire? It is important to know the exact date since you will not be able to run it after this date. We are more than eager to share this information with you, especially as it comes from one trusted source. Also we can predict iOS 7 beta 2 release date and prepare for the some changes in functionality.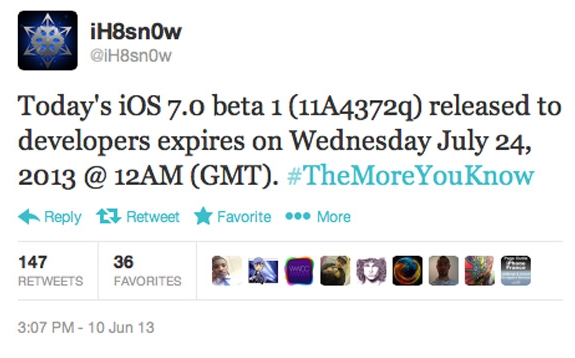 What Happens After Expiration date of iOS 7 beta 1?
Famous hacker iH8Sn0w who knows what he is talking about. His recent tweet states that the latest iOS 7 beta 1 build 11A4372q expires on July 24. The exact expiration time is 12 a.m. [GMT] and the exact date of the week is Wednesday.
So remember the iOS 7 beta 1 expiration date. It is July 24th. Make sure you get to the second beta launched before this date or downgrade iOS 7 beta 1 to iOS 6.1.3 or 6.1.4 which you can do without SHSH blobs.
All beta builds of iOS firmware have their expiration dates. Apple has implemented such a tradition to make sure that iOS devs who test these operating systems either update to the next build presented or download the iOS version officially launched by the Cupertino-based company.
You probably wish to know if you are able to stay on the firmware version after it has expired. Well, you can do nothing because your iPhone / iPad / iPod touch will get into Recovery Mode if you forget to update to the next iOS version presented by Apple.