iOS 7 Beta 2 Expiration Date
Now after Apple released another test version of upcomimg firmware and every developer (and not only developer) wonder when will be iOS 7 beta 2 expiration day? If you wish you can install iOS 7 beta 2 without UDID and developer accounton your device to try it out and find out more about this firmware.
We have told you before [and you might have heard about this] that all beta version of Apple mobile firmware have their expiration date. This date is significant to know because iOS developers, different carriers and ordinary iPhone / iPad users who update to testing iOS releases should upgrade to the next version or downgrade to the previous firmware version before beta installed on their iDevice expires.
As we've heard, iOS 7 beta 1 expires in the end of July [the exact date is July 24th]. We are sure that most people have already installed beta 2 and wish to find out its last day of life as well. Thanks to iH8Sn0w, this date is announced and tweeted to all people who are interested in testing the new features, options and improvements brought by iOS 7.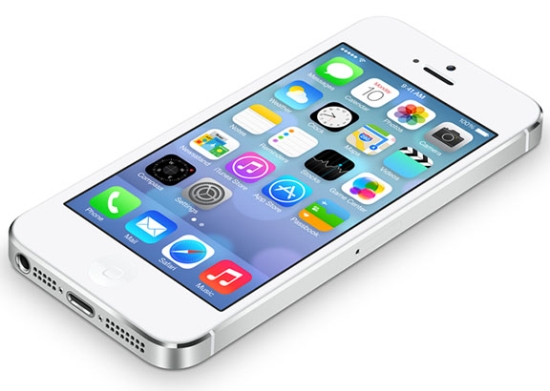 As the well-known hacker states, iOS 7 beta 2 expires on August 8th 2013. The exact time is 12 a.m. (GMT) and the expiry date is Thursday.
Remember that you should either upgrade to iOS 7 beta 3 or downgrade iOS 7 beta 2 to iOS 6.1.3 / 6.1.4 before August 8. Otherwise your iPhone / iPad / iPod touch will enter Recovery Mode.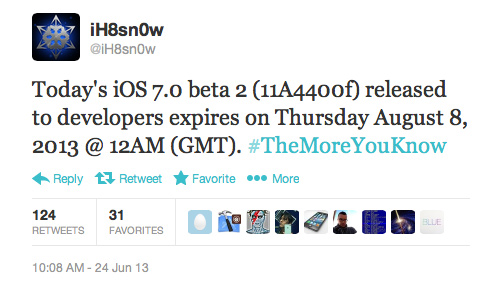 The second beta build 11A4400f was released with some updates and enhancements. A lot of icons were redesigned and interfaces were improved. For example, you can now see avatars of your friends when you send group messages.
Some iOS 7 beta 2 features are pretty nice. iCloud keychain, Voice Memos, answer-a-call buttons etc. are must have features and they have become much better in iOS 7 beta 2 release. It is now possible to see the time when you have sent and received a text message. You can read more about all the updates and see screenshots of the second beta build for iOS 7 here.