iOS 7 Beta 2 to iOS 6.1.3 & 6.1.4 Downgrade Instruction
Users who have upgraded to the first beta of the new iOS 7 are not afraid to download the second beta because you can easily downgrade iOS 7 beta 2 to iOS 6.1.4 or iOS 6.1.3 in case you get bored with this testing build or something goes wrong with its performance.
You'll need to get iTunes and one of the operating systems mentioned above. There is no need to have SHSH blobs saved in order to perform successful downgrade. You can follow the instructions below and after you enjoy all the bugs and features after iOS 7 beta 2 installation on your iPhone 5 or 4S you can get back to an older firmware version.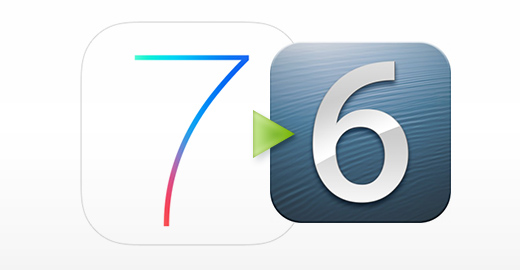 How to Downgrade iOS 7 Beta 2 to iOS 6.1.3 / 6.1.4
The whole process of restoring from iOS 7 to version 6 is not difficult. This guide is great for iPhone 4S and iPhone 5 users who have upgraded to the latest unofficial Apple mobile system. You can use either Mac or PC. Just make sure you have the most recent iTunes 11 app on your computer.
It is possible to download iOS 6.1.3 for iPhone 4S here and iPhone 5 users can get iOS 6.1.4 because it is the lates firmware for the 5th version.
Step 1. It is highly advised for all iDevice owners to back up their data. There are two programs that will help you to do this. iCloud is one program and iTunes is the other one app.
Step 2. Launch iTunes 11 on your Mac machine or Windows PC and connect iPhone 5 / 4S to it. Now find the iPhone icon and press on it.
Step 3. Put your handset into DFU mode to avoid 1600 error in iTunes. This guide will explain how to enter DFU mode.
Step 4. Your iTunes should tell you that your iPhone is now in Recovery Mode. It's ok. You should hold down ALT key on Mac / SHIFT key on Windows PC and press Restore.
Step 5. You will be asked to point to your iOS 6.1.3 / iOS 6.1.4 firmware. Specify which one you wish to downgrade to.
Step 6. Wait till the process is over. It's great that you should not save SHSH blobs in order to get back to the official firmware from the beta iOS 7.