iOS 7 Beta 2 Update for iPad / iPhone / iPod touch [Download Links]
Now you can get iOS 7 beta 2 without developer account right here. Also there is no need to register UDID to download the second beta. Just use direct links below and enjoy this test version on iPhone as well as on iPad, iPod Touch and Apple TV.
Also there is a guide to install iOS 7 beta 2 on iPhone, iPad without any registrations and additional software.
The first beta of the iOS firmware created for Apple mobile devices has been followed by the iOS 7 beta 2 release. Apple has solved different problems and improved its first beta build in this update. While the debut operating system was distributed among WWDC participants mostly [even though ordinary users were also able to manually update their iPhone / iPod touch to iOS 7 beta 1] the upgrade is meant for developers only.
Should you download iOS 7 beta 2 using direct links here below? Does it bring any new features to iFirmware? We are sure you'll like this news.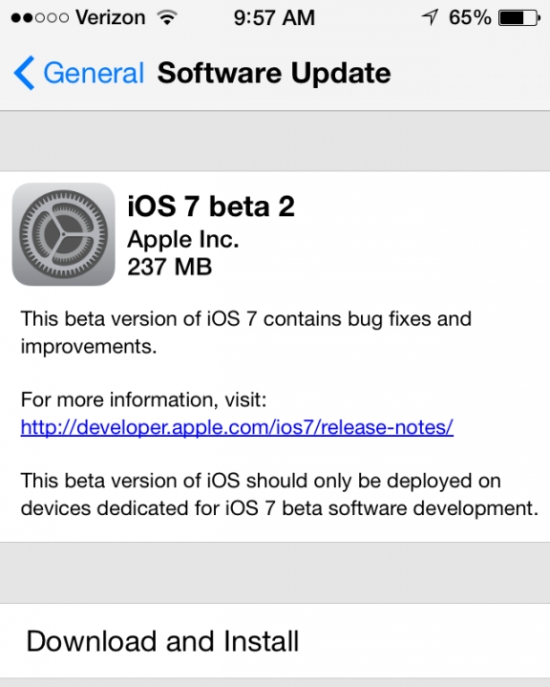 iOS 7 Beta 2 Features
According to reports, the second beta which was released on Monday comes with an enhanced Messages program. It sends notifications to users each time they send, read or get their messages.
The second improvement is the return of Voice Memo. It was absent in the first beta launch.
The third improvement is the support for iPad mini and iPad gadgets. The first beta build could run on iPod touch and iPhone only. Now tablet users can easily install it and test all the new and updated options.
The fourth change is the combination of App Store and iTunes features within Settings application.
iOS 7 Beta 2 Download Links
Anyone who is paying $99 a year for their iOS Dev account can download the new beta build. It is most likely has a lot of bugs and can crash once in a while because this mobile system is now in its early stages of development. If you wish to update right now login into Apple Dev Center and download your version of iOS 7 beta 2. You can also get it via OTA update.
But as usual I have direct links for our readers and you can use it to download the second beta of iOS 7 for your device:
iPhone 4 GSM
iPhone 4 CDMA
iPhone 4 GSM Rev A
iPad 4th Gen A1460
iPad 4th Gen A1459
iPad 4th Gen A1458
iPad Mini A1432 WiFi
iPad Mini A1455 CDMA
iPad Mini A1454
iPad 3rd Gen WiFi
iPad 3rd Gen WiFi + CDMA
iPad 3rd Gen WiFi + GSM
iPad 2 WiFi
iPad 2 WiFi Rev A
iPad 2 WiFi + CDMA
iPad 2 WiFi + GSM
Apple TV 2nd Gen
Apple TV 3rd Gen
Apple TV 3rd Gen Rev A
Carriers can also update to iOS 7 beta 2 to test it on their networks. Also if your iPhone is locked to some carrier you can officially unlock it and try the new beta without any restrictions and without fear to be locked again after update and downgrade in iTunes.
The public version of iOS 7 should be releases in the fall season.