When iOS 7 Beta 4 Expires
The new update iOS 7 beta 4 was presented by Apple on Monday, July 29. This mobile firmware has build number 11A4435d. It is available at the Dev Center and via OTA update to iOS developers and carriers. Users with particular iPhone, iPad mini, iPod touch and iPad models assure they are able to update manually without a registered UDID, but experts suggest them to wait till the official iOS 7 release later this year.
Expiration Time for iOS 7 Beta 4
According to iH8sn0w, iOS 7 beta 4 expiration date is September 12, 2013. This will be Thursday. The exact time is 12 am [GMT]. It is important to keep this day in mind, especially if you don't play on updating to the next beta if there is any to be released soon.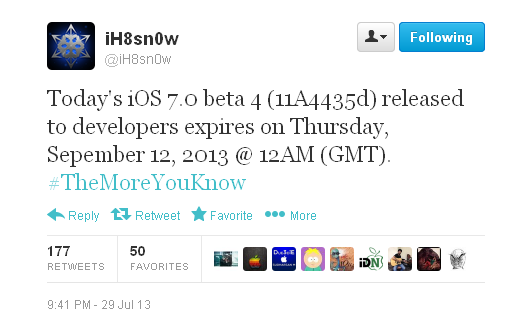 What happens if you don't upgrade to a newer firmware version [it doesn't matter if this is beta 5 or the official seventh firmware by Apple] or downgrade to previous iOS 6 versions? Well, you will not be able to user your iPhone, iPad or iPod touch because it will be automatically placed into Recovery Mode.
About iOS 7 GM Version
The "Gold" version of the new iOS operating system is expected to follow the build 11A4435d. This news hasn't been confirmed by Apple yet, but there are experts who believe that we will not see iOS 7 beta 5 launch this year. We'll just see the GM presentation next. It will happen this way if everything goes well with b-4 testing.
Of course, if the fourth beta fails and exposes too many bugs, the Cupertino-based giant will have to announce another beta release. In case there are no problems with the latest system for fruit mobile gadgets, we can expect GM iOS 7 launch in the end of August or beginning of September.