Front Panel Of iPhone 5 Is Slightly Thinner Than On iPhone 4S
As iPhone 5 release date comes closer new info concerning its design leaks online every day. And today I got some interesting info for you. Here I tried to compare iPhone 5 vs iPhone 4S front panel. You may remember that I've already written you about leaked iPhone 5 front panel and now let's compare this detail.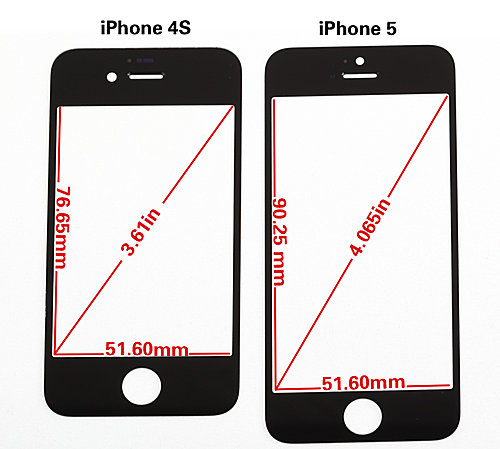 First let's take a look at the size of glass lens of iPhone 5 which is 90.25mm in length, 51.60mm in width and 0.9mm in thickness. At the same time as looking at iPhone 4S front glass you can notice that it is 76.65 mm in length, 51.60mm in width and 1.0mm in thickness accordingly.
As you see iPhone 5 glass lens is a 1.0mm thinner than iPhone 4S one and the transmittance is higher than that of iPhone 4S.
Another interesting thing in iPhone 4S vs iPhone 5 front panel is that the camera hole of iPhone 5 was transferred from the left side to the right middle above the receiver. So I think that taking photo using iPhone 5 front facing camera will be more comfortable.
Also as we look at the light sensor holes you can see that it is smaller on iPhone 5 than on iPhone 4S and that it was moved from the top to the left side of receiver. Perhaps it was made to increase sensitiveness.
Now let's take a look at the Home button which was narrowed to 0.3mm which means that it would be smaller than iPhone 4S'. Also the area around the Home button was narrows down as well in iPhone 5. And the back side of next-gen iPhone looks almost the same as on its predecessor.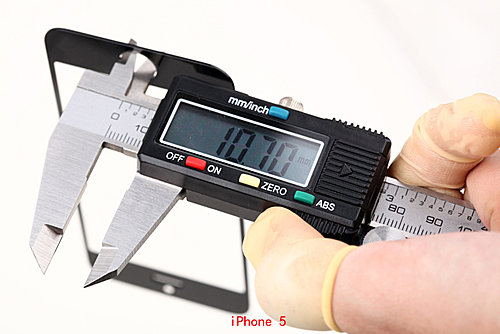 So, looking at this comparison here, you can imagine how new iPhone will look like. There is really a big difference between iPhone 5 vs iPhone 4S front panel. However I can't insist that it is true because there are still a lot of different rumors concerning iPhone 5 design. Believe it or not? Let's wait for iPhone 5 release date.
Update: Also you can decide if to purchase the new iPhone or not. Just check out the iPhone 4S and iPhone 5 comparison and make your decision.
Do you like its new design? Let us know using comment form below.