iPhone 5C or iPhone Lite Packaging Pics Surfaced?
While a lot of customers expect to see iPhone 5S release this fall these pictures show us an "iPhone 5C" which is supposedly the next smartphone model we'll get. These boxes are reportedly the packaging for a low-cost Apple smartphone.
There are a lot of ideas on what label "C" could mean. Some experts suggest it stands for "Colorful" since there have been pictures of colorful devices earlier pusted on different sites. Others suppose it stands for "Cheap" since this new handset should cost less than other Apple smartphones.
iPhone Lite: Fake or Real?
We understand that some of iPhone users look at these photos as if they were fake. The Cupertino-based company hasn't confirmed anything yet so it might be just one of Asia clones of fruit devices. It might be real just as well. We'll say it is fifty-fifty. Customers who wish to purchase a cheap iPhone are probably very excited about such images of many boxes labelled iPhone 5C.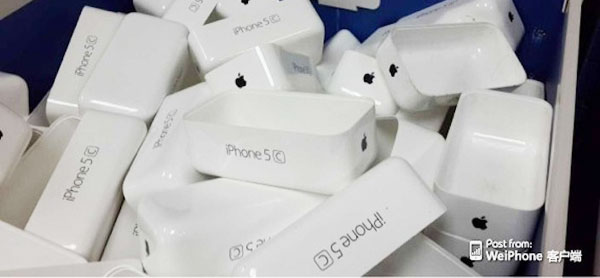 Could these be the packaging for a low-cost iDevice? A lot of rumors suggest that this could be a colorful model available in yellow, pink, green, blue colors. The plastic shells of such a smartphone have appeared online a while ago but experts named its iPhone 5S. So what name will it get?
iPhone 5C or iPhone Lite
We should keep in mind that no Apple devices have ever been sold in plastic boxes. So the "C" could easily stand for clone made in China, couldn't it? We've never seen iOS "C" model either. There was 3GS and 4S, but not 4C. At the same time all fruit gadgets are very expensive. In other words, if Apple really releases a smartphone cheaper than $400-500 than it could easily make it colorful and name it iPhone 5C. Why not?
The $300 model should be different from its expensive "brothers." We are sure that more information on the mystical low-cost Apple handset will soon surface