Did you know how to search web anywhere on iPhone running iOS 9? If you have a jailbroken smartphone you can download the jailbreak tweak that allows searching internet pretty quickly. It is possible without going to Safari browser or other program because you only have to install one jailbreaking tool and it will let you speed up this process.
Follow the instruction and you'll see how simple everything is. The app also allows you finding word definitions on-the-go.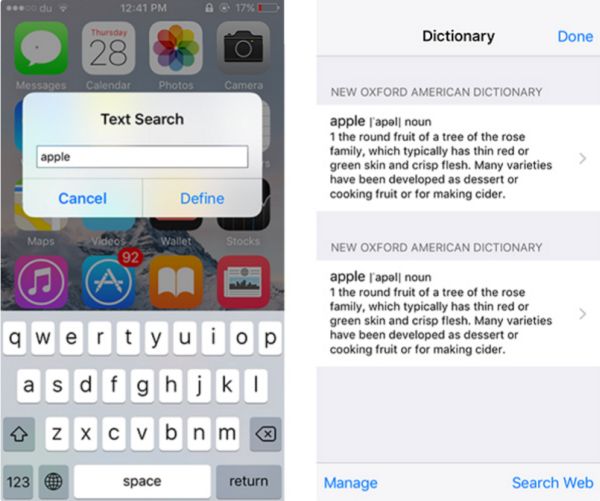 Search Web iOS 9 from Anywhere on iPhone: How to
Step 1. Download the tweak TextSearchPro.
Step 2. Install the program.
Step 3. Open Settings and find the new pane where you are welcome to change configurations.
Step 4. You can select one of the two options: search the web from anywhere or get word definitions from your iOS 9 dictionary [here is how to fix iOS 9 autocorrect problems and bugs].
Step 5. This iPhone searching jailbreak tweak uses FlipSwitch and Activator to allow you performing the search tasks.
Step 6. To invoke the app you have to use the FlipSwitch toggle. It is also possible to assign a gesture that would invoke it through Settings – Activator menu.
Step 7. When you select internet searching option you will be able to search through different browser. The tweak gives you a choice of Google, Baidu, Yahoo and Bing.
You can now search faster and define words with ease. Thanks to the iOS 9 jailbreak tweak this becomes as simple as a breath. Sadly it doesn't work on iOS 9.1 or 9.2 since both firmware versions cannot be jailbroken right now.
Apple continues to test iOS 9.3. The company has many interesting plans for 2016. Many rumors promise the new iPhone 7, iPad Pro 3 and many other gadgets. There are no official confirmations yet but millions of users can't wait for the first spring releases.
READ MORE +