Are you trying to find your iPhone WiFi network password for saved networks and fail? Here is a guide that explains what you have to do and where to look for your lost app. There are many users who get into this trouble and cannot get an application that can do the work for them. iPhone users who are jailbroken on iOS 9 – 9.0.2 can use one Cydia tweak for some help.
The tweak we'll talk about can show WiFi passwork iPhone for you. This is the easiest and fastest way to get connected to WiFi on your smartphone.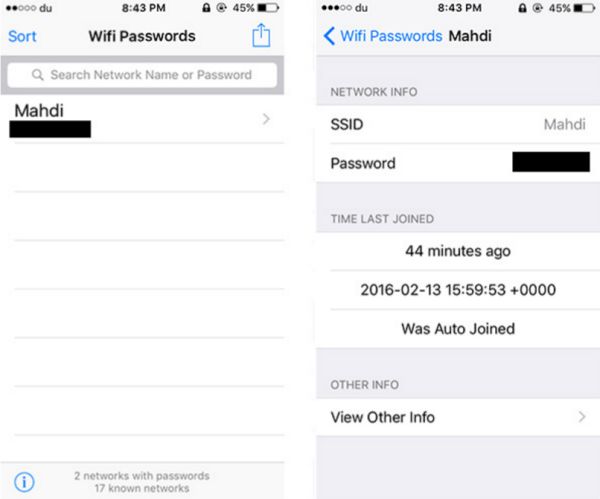 How to Find Password for WiFi on iPhone 6
Step 1. Go to Cydia store and download the free jailbreak package called WiFi Passwords List. This is the tweak you should install on your iDevice.
Step 2. The tweak supports all iOS 9 devices. It can find the password for any of the WiFi networks you have joined previously which is impossible to do without jailbreaking [here is how to fix WiFi problems on iOS 9 if you experience any troubles].
Step 3. You can find a new application on your Home screen. Launch it.
Step 4. You will find a list of all WiFi networks you joined on your iPhone.
Step 5. The tweak simply shows the password below each WiFi network you have joined. So it is very easy to get the password you were searching for.
Step 6. If you click on any of the listed WiFi networks you will get information about when you joined it the last time. There will be also technical details about it.
Step 7. You can now remember all the passwords for different saved WiFi networks on iPhone. This is free and it can be handy.
READ MORE +